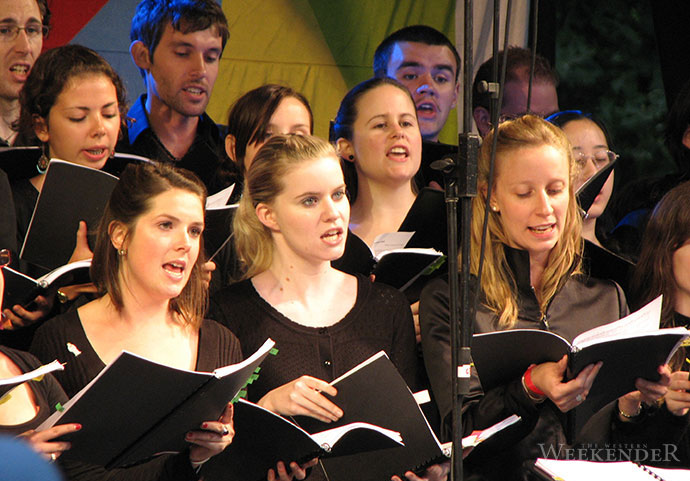 Sleeping takes up so much of our time so it's not surprising that the act has inspired many artistic works, including the upcoming concert 'Luminous Night'.

Take the chance to see young musicians shine on stage when Sydney Philharmonia's dynamic youth choir VOX presents 'Luminous Night' at the Joan Sutherland Performing Arts Centre on Sunday, August 4.
The youth choir is made up of musicians aged 18 to 26-years and works under the inspiring guidance of Music Director Elizabeth Scott.
'Luminous Night' is a musical celebration of mid-winter, with its haunting and beautiful tone inspired by night, sleep and dreams.
It features a repertoire of stunning music including 'Sure on this Shining Night' in settings by Samuel Barber and Morten Lauridsen; 'Five Hebrew Love Songs and Alleluia' by Eric Whitacre; 'Dark Night of the Soul and Luminous Night of the Soul' by Ola Gjeilo and works by the young Australian composer Daniel Brinsmead.
VOX have been praised in the past for their talent, after playing alongside the prestigious Sydney Symphony Orchestra in their live performances for the 'Lord of the Rings' film trilogy sound track and in the concerts of Grieg's 'Peer Gynt'.
They were also involved in the celebrations of the Sydney Festival's 2013 opening and performed to welcome the Giant Rubber Duck into Darling Harbour.
They also featured in Sydney Philharmonia's 'Light and Gold' concerts that celebrated the music of Eric Whitacre.
The Sydney Morning Herald praised VOX's performance at the Sydney Opera House earlier this year, writing that: "time stood still… an inspiring demonstration of the power of the voice".
Music Director Elizabeth Scott is a seasoned veteran and has studied choral conducting, vocal performance and aural training in Australia, Hungary and Germany.
She is also Associate Conductor of Sydney Chamber Choir and a guest choral director of various other Sydney-based choirs.
Scott's passion for music education is further seen in her role as Music Projects Officer at The Arts Unit; a specialist branch of the Department of Education and Training.
She also holds the position of Director of Vocal and Choral Studies at the Conservatorium High School.
Her expertise in musical directing combined with the talent and enthusiasm of VOX are sure to result in an awe-inspiring concert.
VOX will perform 'Luminous Night' at the Joan Sutherland Performing Arts Centre on Sunday, August 4 at 3pm. Tickets are $20-$25.
For bookings or more information, call 4723 7600 or visit www.jspac.com.au.