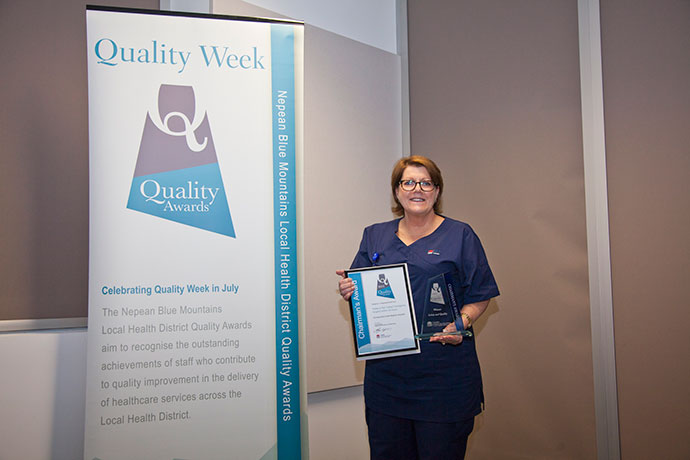 A small team of dedicated nurses in the Operating Theatres at Nepean Hospital has received the Nepean Blue Mountains Local Health District (NBMLHD) Chairman's Award for Safety and Quality for exceeding the NSW benchmark for patients requiring surgery within 24 hours.

Nurse Managers Jill McCarthy and Kerry Rodgers undertook a clinical redesign project to enhance the surgical journey of the emergency patient booked in the E24 category (surgery to be completed within 24 hours from time of booking) at Nepean Hospital.
"This is the largest group of emergency surgery patients at Nepean Hospital, accounting for an average 46 per cent of the emergency surgery workload," Kerry said.
The NSW Ministry of Health sets a Key Performance Indicator of 85 per cent for patients in this category however at Nepean early in 2012 the average performance was below this at 73 per cent.
"This meant that patient's needed to stay longer in hospital, reducing the availability of beds for other patients and was also having a negative effect on patient and carer satisfaction," Kerry said.
"However by February 2013, the project had enabled the team to identify improvement strategies to successfully meet and exceeded the 85% benchmark."
The Chairman of the Nepean Blue Mountains Local Health District, Associate Professor Patrick Cregan, said the award demonstrates the vital role healthcare staff play in making the journey easier, safer and more comfortable for members of our community when they are at their most vulnerable.
"The winning project is an initiative that offers a specific and significant contribution to patient safety and quality of care achieving the best possible outcomes for patients," Associate Professor Cregan said.
The NBMLHD Quality Awards was attended by 150 guests and 24 nominee teams and was held on Wednesday 17 July at Nepean Hospital. Other projects to be awarded included a projects that: use probiotics to save premature babies; are improving the lives of people with a mental illness; help close the gap on Aboriginal Health in the Blue Mountains; reduce healthcare associated infections; reduce wait times for access to child and adolescent health and; reduce hypoglycaemic episodes in diabetes patients.