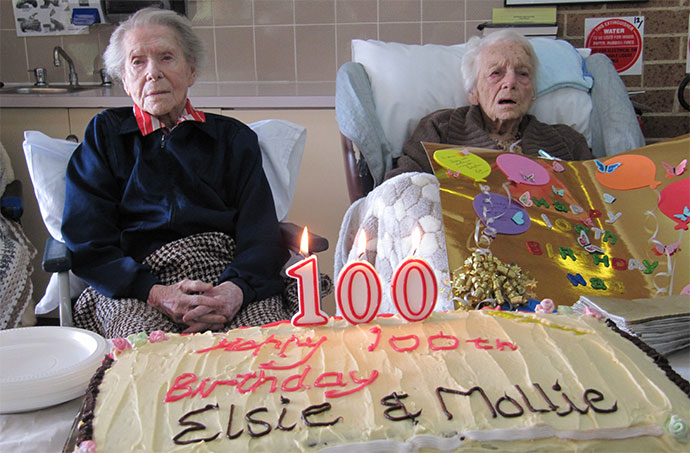 Staff and residents at Mountainview Aged Care Facility put on a big birthday bash for two special residents last week, both celebrating 100 years.

Mollie Hubbard and Elsie Graham were joined by family, friends and staff on Friday, July 12, to celebrate the huge milestone in each of their lives.
Ms Graham, who celebrated her 100th birthday on Saturday, July 13, has lived and worked in Penrith's surrounds since she was just 13-years-old.
She celebrated with members of her large family; three children, nine grandchildren, 30 great grandchildren and seven great-great-grandchildren, by her side.
Ms Graham's granddaughter, Tracy Smith, travelled a long way to be with her grandmother for this special occasion.
"I came down all the way from Oberon to celebrate this birthday with her – it is such a milestone! She has always been a quiet, gentle person. We are so happy to be here," she said.
Mollie Hubbard, born on July 22, 1913, is yet to officially celebrate her birthday but that didn't stop family, friends and staff at Mountainview celebrating with her last week.
She moved to Warragamba in the early fifties where her husband, James, was one of the many men to help build the dam wall.
Around 10 years later, the couple moved to Kingswood where Ms Hubbard kept herself active playing and competing in bowls and practicing Tai Chi, a discipline which she took up in her seventies and continued well into her nineties.
"Mum has always been bubbly, outgoing and active. She was president of the Kingswood Bowling Club and there is a story in one of the local papers about her Tai Chi! She worked at the Penrith drive-in and later she worked at Myer in Penrith – she stayed lifelong friends with the people she worked with there – she was always loyal to her friends," said son, Joe Hubbard.
Ms Hubbard's children, Joe and Annie, said that it is their mother's determination to make it to 100-years-old that has kept her fighting fit all these years.
"Turning 100 had always been a goal of hers, like doing the Harbour Bridge, that was another of her goals, she did it when she was 92!" Annie Meehan said.
"She's an absolutely beautiful person. You never hear my mother complain, you never hear her say a bad word about anyone. She loves her family, she is incredibly proud of her grandchildren and great grandchildren."