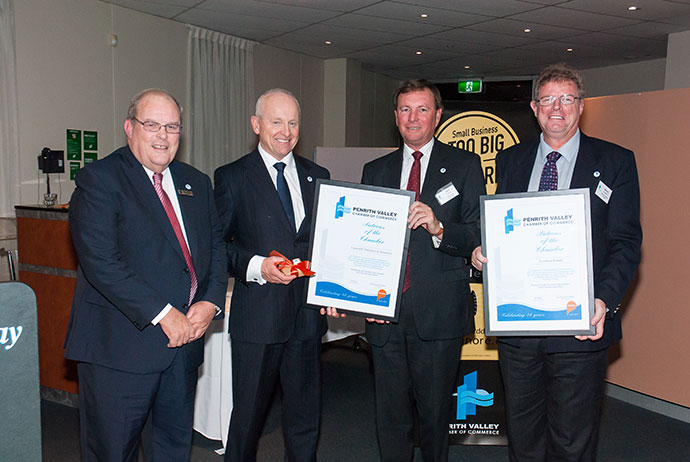 They are names steeped in Penrith's history and now the Lamrock and Freeburn families have been given a special honour that pays tribute to the role they play in the region's business community.

Penrith Valley Chamber of Commerce announced this week that Lamrocks Solicitors and the Freeburn family had been confirmed as its new patrons.
The prestigious honour was announced at the Chamber's Member Certificate Presentation Dinner in recognition of their continuous membership with the organisation since its inception in 1927.
The Chamber, celebrating 86 years, has never before bestowed such a privilege on members.
Chamber President, Peter McGhee said that it is appropriate that such an honour be handed down.
"It is a rare thing in this day and age to find such commitment by people, or longevity of business interests, to any organisations or their communities as these two businesses have made to Penrith," he said.
Steve Groves and Arthur Fogarty, Managing Partners representing Lamrocks, celebrated the night with members of their team.
Matthew Freeburn and his wife Alison also joined in the celebrations representing his current business interest, Freeburn Surveyors.
Both the forebears of Lamrocks and Freeburns were very active business leaders in their day and ensured the wider community benefited from their visions for the sustainable future of the region.
"Theirs is a wonderful endorsement for this organisation independently representing the collective voice of businesses across the region," said Chamber CEO, Jill Woods.