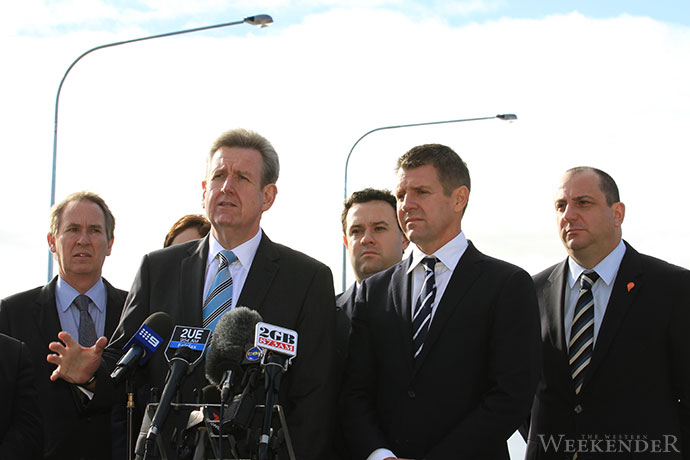 Further expansion of the Western Sydney Employment Lands, complemented with a $70 million investment in roads infrastructure was announced as the centrepiece of the NSW Government's western Sydney budget commitments this week.

Continuing on from their previous budget spending to build the Erskine Park Link Road, the NSW Government announced that $70 million will be allocated to the upgrade of Old Wallgrove Road, providing the last length of vital infrastructure to connect Erskine Park Link Road with the M7.
At the construction site on Wednesday morning, Premier Barry O'Farrell and Treasurer Mike Baird said that the project would unlock thousands of jobs for local residents.
"Erskine Park Link Road and the Old Wallgrove Road upgrade are two of the most important road projects in NSW because they are directly unlocking land for employment in western Sydney," Mr O'Farrell said.
The Western Sydney Employment Lands will be expanded fourfold for 2,200 hectares to 10,000 hectares, making it the largest employment centre in the state.
"There are already logistics businesses here through to manufacturing, but unlike the previous State Government, we will not be telling business where they can set up," Mr O'Farrell said.
The announcement was met with great excitement from Penrith Mayor Mark Davies.
"This area is pivotal to the residents of Penrith because it will be a major employment zone so that people can work, live and play all in Penrith," he said.
"Council has been involved intimately in the planning process and have met with Mr O'Farrell and Planning Minister Brad Hazzard on several occasions to discuss the potential of this site."
CEO of Penrith Chamber of Commerce, Jill Woods, was thrilled at the announcement.
"We have been lobbying for this for many years, ever since former Premier Keneally spoke at one of our luncheons and promised this development would happen, but nothing did," she said.
"We are very grateful that the Premier has been here quietly on several occasions to assess the land and has made it a priority for the State Government."
Importantly, the plan proposes a rail corridor through Badgerys Creek and Luddenham to connect the Western Rail Line with the South West Rail Link and a freight corridor on the edge of St Clair and Erskine Park for smoother transport options.