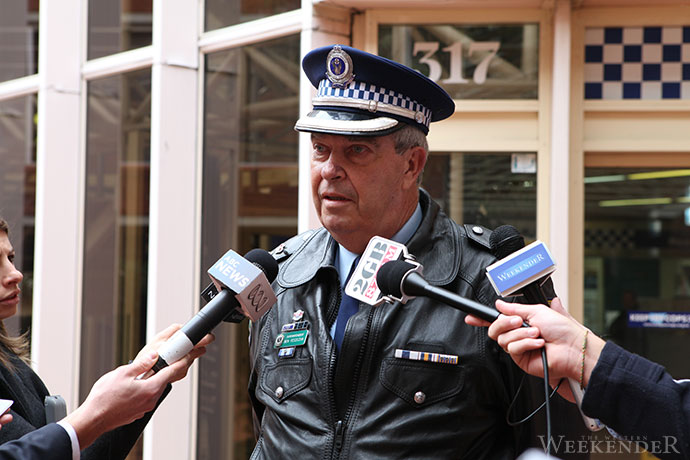 A brother and a sister shot at while they drove home from work in the early hours of this morning were innocent victims and not known to the offenders, police believe.
The frightening incident occurred at around 12.15am when the 20-year-old woman and 25-year-old man were driving along Mulgoa Road at Penrith.
They noticed a white Mitsubishi following them, and when they approached Evan and Smith Street in South Penrith, their vehicle was shot at.
Neither the man or woman were injured, and they immediately drove to Penrith Police Station and reported the matter.
Police commenced a search of the area locating a white Mitsubishi travelling along The Northern Road. A police pursuit was initiated after the Mitsubishi allegedly failed to stop.
The car was followed to Muscatel Way at Orchard Hills where a minor collision occurred between both vehicles.
The driver, a 33-year-old man, was arrested and taken to Penrith Police Station while another man allegedly ran from the car.
Local police with the assistance of Polair and the Dog Unit conducted a search of the area arresting the passenger about 90 minutes later.
He was taken to Nepean Hospital where he remains under police guard while receiving treatment for a dog bite to his legs.
The 33-year-old man was charged with discharge firearm with intent to cause grievous bodily harm, police pursuit – not stop – drive recklessly (Skye's Law) and breach of bail.
The Weekender understands that charges will be laid against the man in hospital later today or tomorrow.
We can also reveal that the gun used in the incident was found by police after an exhaustive search this afternoon.
Penrith LAC Commander, Ben Feszczuk, said it was lucky that the victims were not injured in the incident.
"I can't speak on their behalf but I can imagine that they would be fairly distraught, having been subjected to this sort of behaviour," he said.
"It's certainly unwanted… nobody wants to be subjected to this sort of behaviour. The good news is that both offenders were arrested and in custody and we move forward."
Mr Feszczuk said it was "always a concern" when innocent people were the victims of such incidents, but praised the brother and sister for their quick thinking in coming straight to the police station, saying it "without doubt" helped in the quick arrest of the offenders.
He said the actual motivation for this morning's incident was still unknown.