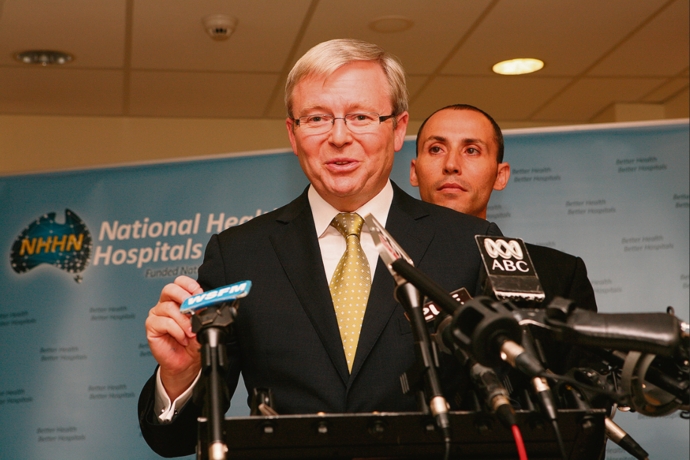 The biggest battle on Wednesday was supposed to be between New South Wales and Queensland on the footy field.

But it turned out that a contest with just as much aggression was lurking in the shadows ready to steal the spotlight.
Julia Gillard's reign as Prime Minister crashed down around her this week, with Kevin Rudd – the man whose job she took three years ago – winning a dramatic Wednesday night leadership ballot to reclaim the nation's top job.
It took the Labor caucus one hour to make the leadership decision, with Mr Rudd winning the leadership ballot convincingly, 57 to 45.
After promising in March that "under no circumstances" would he contest the Prime Ministership, Mr Rudd said that the challenge had to occur due to dwindling popularity ahead of the Federal election on September 14.
"We are on course for a catastrophic defeat, unless, of course, we have change," he said.
"People want a real choice at this election, at present they don't feel they have got one.
"I don't seek to fudge the fact that I have changed my position… But I am doing what I honestly believe to be right for Australia."
Speculation of a challenge was mounting on Wednesday and just after 4pm, Ms Gillard declared she'd had enough and called for a ballot.
"I've got an obligation to the nation… I'm not going to let that speculation run endlessly," she said.
Where Mr Rudd's victory leaves Lindsay MP, David Bradbury, was not immediately clear following the ballot on Wednesday night, but in the past, he has been a strong supporter of Ms Gillard.
Mr Bradbury was not immediately available for comment after the ballot on Wednesday and it was unclear how he voted.
The final nail in Ms Gillard's coffin came when powerbroker Bill Shorten switched to the Rudd Camp half an hour before the ballot.
"It is my personal conviction that the best interests of Australia must come first – I believe Kevin Rudd being elected provides the best chance for Labor to be re-elected," Mr Shorten said.
Ms Gillard and Mr Rudd had both promised they would not contest the election if they lost the ballot, meaning Ms Gillard's career is effectively over.
It had already been an ordinary week for Ms Gillard, who was caught in a storm over photographs of her knitting a present for the royal baby, which were published by the Australian Women's Weekly.
After Ms Gillard lost the battle, Deputy Leader Wayne Swan stood down. Anthony Albanese is the new Deputy Leader.