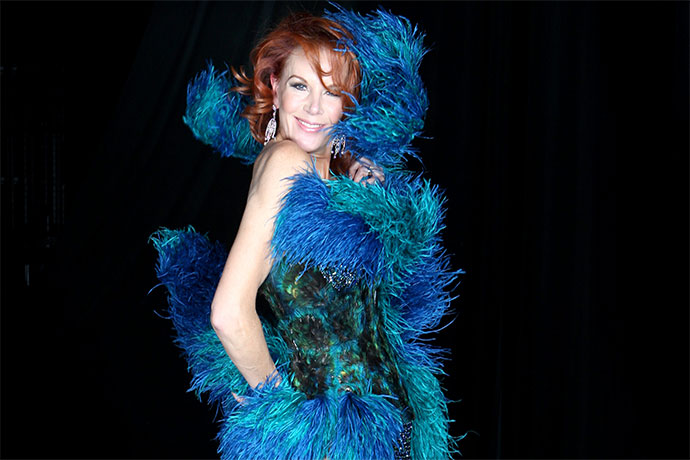 Rhonda Burchmore has enjoyed a fabulous entertainment career and is known as one of Australia's most lively and diverse performers.

Now she will tell her tale through music with 'Legs 11', a feel-good musical biography documenting her 25 years in the spotlight.
The veteran performer will be bringing her larger-than-life stage presence to Blacktown Workers Club for one "not to be missed" night on Saturday, June 1.
The show is a musical exploration of Burchmore's amazing life and dazzling show business career, set to an inspiring set list of songs and tales that influenced her throughout her life.
It is a warm, funny and mesmerising journey through the past two and a half decades – from casting her dolls in supporting roles of childhood plays, to forgetting her lines on live television as a shy teenager, to singing for a US president and meeting Lady Diana, and a highlight, playing alongside screen veteran, the late Eddie Bracken, in 'Hot Shoe Shuffle'.
Fans will be delighted to hear Burchmore tackle an impressive repertoire of songs that will touch and entertain them including 'Broadway Baby', 'Birth of the Blues', 'In My Daughter's Eyes', 'New York, New York', 'To Sir With Love', 'Get Happy', 'All That Jazz', 'Diamonds', 'Sway', 'Cry Me A River' and 'Dancing Queen'.
As always throughout her illustrious career, Burchmore puts all her energy and talent into her performance in 'Legs 11' with the show garnering rave reviews from critics, who praised its upbeat atmosphere and glitz.
The Sydney Morning Herald referred to the show as being "totally embraceable… larger than life", while the Courier Mail said: "Rhonda Burchmore took the stage with more sparkles than a galaxy spilling over with stars… her numbers were explosively delivered".
With over a quarter of a century's show business experience behind her, Burchmore has made a reputation for herself as one of the country's most talented and audacious performers.
Her cabaret and theatre performances have delighted both audiences and critics, and she was nominated for a 2002 Mo Award for Female Musical Theatre Performer of the Year for her role in 'Mamma Mia'.
A highpoint of 'Legs 11' is undoubtedly Rhonda's performance of songs from the ABBA musical production.
She has also appeared in many other musicals and plays including 'Sugar Babies', 'Stop The World I Want To Get Off', 'Easter Parade', 'Into The Woods', 'Annie Get Your Gun' and 'Guys and Dolls' as well as starring in her own cabaret show.
This seasoned, vivacious performer is a joy to watch on stage and is sure to create an enchanting night of entertainment with her show 'Legs 11'.
'Legs 11' will show at Blacktown Workers Club on Saturday, June 1 at 8pm. Tickets are $25 for members or $28 for visitors. For bookings or more information, call 9830 0600 or visit www.workersclub.com.au.