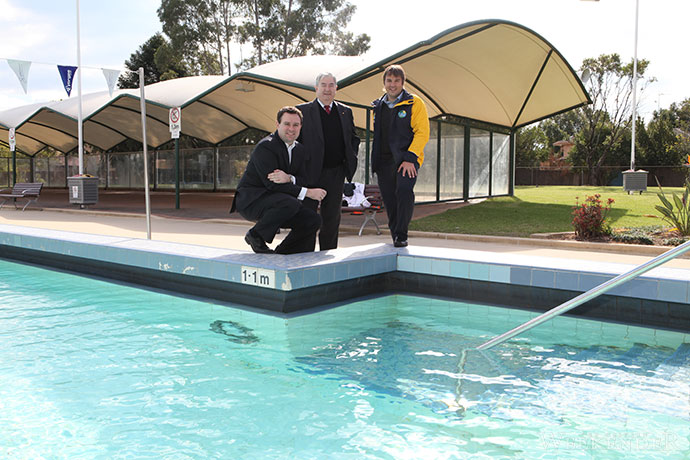 Close to 150,000 people visit Penrith Swimming Centre every year during summer, making it the top local destination for people to visit when it heats up.
This summer visitors to Penrith Swimming Centre will feel more safe and relaxed with the announcement of a giant shade cloth structure to be built.
As part of the Community Building Partnerships Grant, the NSW State Government has committed $25,000 to the project with Penrith City Council also injecting a further $25,000 to upgrade the amenities and facilities of the local pool.
State Member for Penrith, Stuart Ayres, said the construction of the shade structure will allow for people to utilise the pool better.
"It will also make the green space at the shallow end of the main pool more accessible as well," he said.
The shade structure will cover the shallow end of the 50m pool and sweep around to the smaller program pool. It will be made of vinyl material, making it suitable for all weather conditions.
Recreations, Facilities and Programs Officer at Penrith Swimming Centre, Chris Brown, said many people will benefit from the shaded structure.
"It will enable school carnivals to be held when it's wet weather because timekeepers won't get wet," he said.
"We also have lifeguards stationed around that area of the pool because it's the most highly used, so they'll be able to stand safely underneath the structure to keep an eye on the pool."
Penrith City Councilor, Ross Fowler, said Penrith Council were committed in continuing to improve the facilities in the local area.
"We've got a program of improving the assets and amenities for the people of Penrith and this is one of many that are happening at the moment, I look forward to it being completed," he said.
Construction of the shade structure will be completed over the coming months just in time for summer.