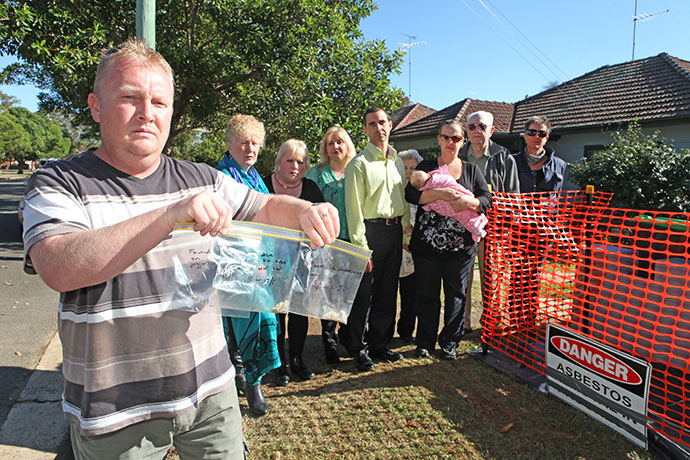 Telstra and WorkCover are investigating a number of telecommunications pits after concerned residents reported that asbestos material was being left exposed in Penrith's streets by contractors preparing the pits for the National Broadband Network.

Last Tuesday, Hornseywood Avenue residents Catherine O'Farrell and her nephew Matthew O'Farrell noticed that there were contractors working in the four pits in their area.
"We started getting dust and building materials all over the driveway and front lawn," Mr O'Farrell said.
"My neighbours had the same problem too, we had asbestos dust through our houses, in our shoes. I have a nine-week-old and they have a one-year-old and if in 30 years they have an asbestos disease there will be hell to pay."
Ms O'Farrell added that the residents were not warned the contractors would be working with asbestos and that correct safety procedures were not being followed.
WorkCover has attended the scene and confirmed they are investigating the matter.
"WorkCover was called out to investigate, and is now working closely with the principal contractor. The material is being treated as containing asbestos and the appropriate controls have been put in place until further testing can be carried out by an occupational hygienist," a WorkCover spokesperson said.
Telstra, who contracted the workers, said that they have also commenced an investigation as a matter of urgency.
"This is potentially a very serious situation," a Telstra spokesperson said.
"Leaving any amount of asbestos on site is absolutely unacceptable. We immediately suspended the contractor from further work while we conduct the investigation and we are also re-visiting all sites remediated by this contractor to make sure the removal of asbestos was conducted in the appropriate way."
Mr O'Farrell said when he spoke to inspectors on site this week, they confirmed that the same contractors had worked on over 20 pits locally.
Telstra confirmed the works were in preparation for the NBN.
"The design of the NBN requires for a large number of our pits across the country to be remediated. As part of this we have reinforced to our contractors and own field workforce that asbestos handling procedures must be followed. We will do so again following this situation," the Telstra spokesperson said.