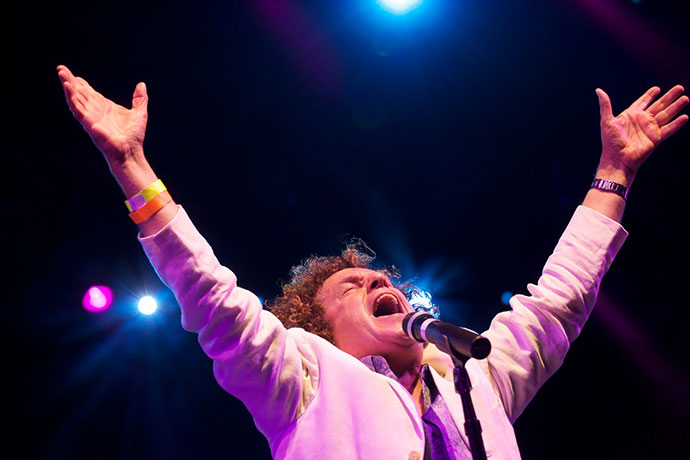 Leo Sayer will celebrate his 65th birthday this month but the pop legend has no intention of fading into retirement. Instead, this self-confessed "old folk" is hard at work in the recording studio and on stage.

The afro-clad musician, who rose to fame with chart-toppers such as 'Thunder In My Heart' and 'You Make Me Feel Like Dancing', still performs and writes music three decades on and shows no sign of slowing down.
Although his biggest hits first graced the charts in the 1970's, Sayer's songs have stood the test of time – a 2006 remix of 'Thunder In My Heart' shot to number one in the UK, while his music still receives regular airplay and gets covered by young artists on shows such as 'Idol' and 'The Voice'.
Ahead of a performance in western Sydney soon, Sayer admitted that he never expected his music career to last.
"I got into it because it seemed to be an exciting thing to do but blimey, it's quite extraordinary really, quite a surprise to find that we're so important still," he said.
The singer will put his high profile to good use when he headlines 'A Night With the Stars Gala Spectacular' at Rooty Hill RSL on Friday, May 24.
He will be joined by other celebrities including Rhonda Burchmore, Russell Morris and Melissa Schneider for the event to raise funds for the Steve Waugh Foundation, a charity that supports children with rare diseases.
"It's me and my band, we're putting on a show, I've played for Steve before so I know that he knows what we can do… we're kind of friends, I'm a big supporter of the organisation, he and his wife do some wonderful work and they're really good people so I'm really, really happy to be involved," he said.
Sayer is also working on a new album, which he remains tight-lipped about.
"It's difficult to describe, it's got a little bit of everything… you'll have to wait and see for when it comes out but it's a bit different. We move forward now with so much technology available to us old folks… but it sort of modernises your approach and I like a lot of music around today so that will always influence me," he said.
While he may be best remembered for his radio-friendly disco pop tunes, Sayer also has a political side which he likes to express through music.
"Because I'm a songwriter, there's a lot to have a social conscience about these days, whether it's CSG gas and the danger of that or the environment and politics, so that gets into the songs as well," he said.
The iconic artist has enjoyed many peaks in his career but nominates his first trip to Australia as a standout moment – after being greeted by hordes of fans at Sydney Airport, he smashed the attendance record at a packed-out gig in Horden Pavilion.
But it wasn't the adulation of fans that triggered Sayer's love affair with Australia, it was getting away from the beaten path and exploring the dazzling Aussie outback.
"I got to feel the real Australia and amazingly, in some of the parts and places way out of town, no one really knew who Leo Sayer was so it was very pleasant visiting places like Darwin and the Barrier Reef and Alice Springs and the rock and no one making much of a fuss so it's great," he said.
The Brit enjoyed his time Down Under so much that he moved here permanently and became a citizen in 2009, a choice that he has no regrets about: "I've got to say, every morning I wake up and I feel like an Australian".
Despite Sayer's successful career, there's still more that he hopes to achieve; from releasing a new album to writing books and working on television.
While it might seem daunting to have so many projects and ideas in the pipeline, Sayer isn't fazed and credits his age with giving him wisdom and insight.
"Quite honestly, the greatest thing about being 65 is you suddenly have all the wisdom and knowledge of how to deal with things, so actually approaching something you want to work on is easier at my age in a way," he said.
"Whereas I always feared the physical side would be the biggest problem, it doesn't seem to be… because I've slightly adjusted the way that I approach the job physically and the fans seem to understand that, probably because they're getting older too. So it's like, 'oh he's moving a bit slower, but then again I am'."
Leo Sayer will perform at 'A Night With the Stars Gala Spectacular' at Rooty Hill RSL on Friday, May 24 at 7pm. Tickets are $120 and include the show, dinner and beverages. For bookings call 9625 5500 or visit www.rootyhillrsl.com.au.