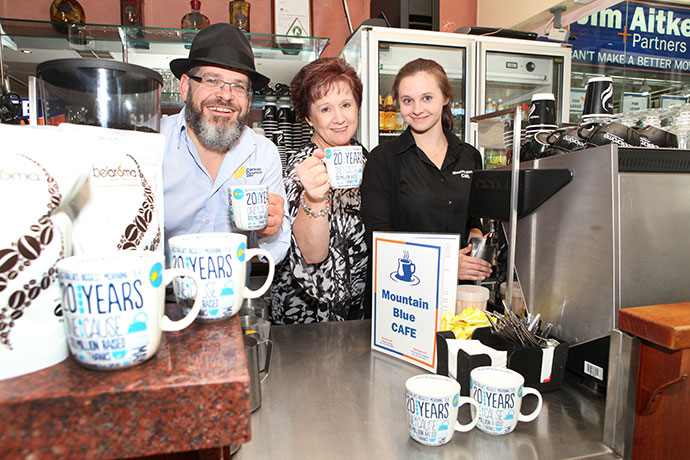 Penrith's Cancer Council Community Office has teamed up with Jim Aitken and his restaurant division to celebrate the 20th anniversary of Australia's Biggest Morning Tea.

Over the past 20 years 61,000 Australians have been saved by improvements in cancer prevention and treatment so to celebrate this, from May 18 to May 26, customers of Jimmy's, Lizzy's and the Mountain Blue Cafés will be able to purchase a dine-in coffee in a limited edition 20th Anniversary Australia's Biggest Morning Tea mug.
$7 out of each $10 mug purchase will go to the Cancer Council, helping fund vital research in the battle against cancer.
Group Manager for the Jim Aitken restaurant division, Jenny Basham said that the Group is looking forward to working with the Cancer Council.
"We have staff that currently have family receiving breast cancer treatment and so it is really close to home for us and our staff," she said.
The partnership is set to make a big difference financially but according to Rodney Titovs, Cancer Council Community Network Coordinator for Penrith and the Blue Mountains, it is also about awareness.
"This is a great opportunity to raise awareness of the success of fundraisers such as Australia's Biggest Morning Tea with the figures released of 61,000 lives saved from cancer research in the same time (20 years) that ABMT has been running," he said.
"Since the late 1980's, the effect of cancer research has reduced cancer deaths by around 30%. Thanks to scientific breakthroughs, improved drugs and cancer prevention programs. There are 8000 people alive this year who would have been dead in 1987 without these breakthroughs."