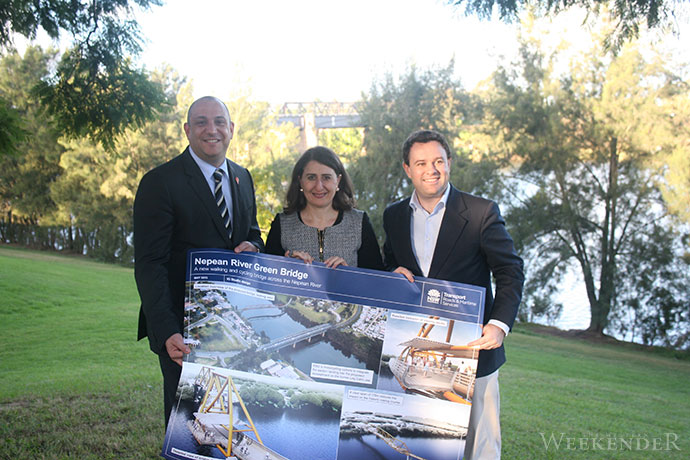 A commitment from the State Government for extra funding and a revised location has won Penrith Council's support for the Nepean River Green Bridge.

Transport Minister, Gladys Berejiklian, announced the final design and costing on Friday afternoon, which will see a design based on the Ki Studio concept realised by 2015.
Whilst the Government's initial preference was to build the bridge for $20 million, aligned with Punt Road and Old Ferry Road, the alignment will now be from Punt Road to the site of the Log Cabin, pending negotiations with owner Ross Sinclair.
The bridge is now estimated to cost $24 million.
"We have managed to find the additional funding for this bridge because we wanted to take into account the extensive feedback we had from the community," Ms Berejiklian said.
When asked about further community consultation, Ms Berejiklian said that delivery is now the key focus, including the extensive Environmental Impact Statement studies.
MP for Penrith, Stuart Ayres, said the span of the bridge is quite significant, at roughly 170 metres if the Log Cabin alignment proceeds.
"The alignment is still being determined on the east bank as we are negotiating with Ross Sinclair on how that land next to Victoria Bridge might be used," he said.
On the west bank there will be a large, supporting pillar, which Mr Ayres admitted will slightly affect rowing on the Nepean River.
"The river has a kink in it so the rowing course finishes closer to the east side of the river. The lanes might have to be narrowed slightly however competition on the river should not be affected," he said.
Penrith Mayor, Mark Davies, welcomed the announcement.
"It has been a long process but this is a significant investment in Penrith. We all know how important that river is, and this bridge is going to highlight its beauty, be interactive, something that to distinguish Penrith," he said.