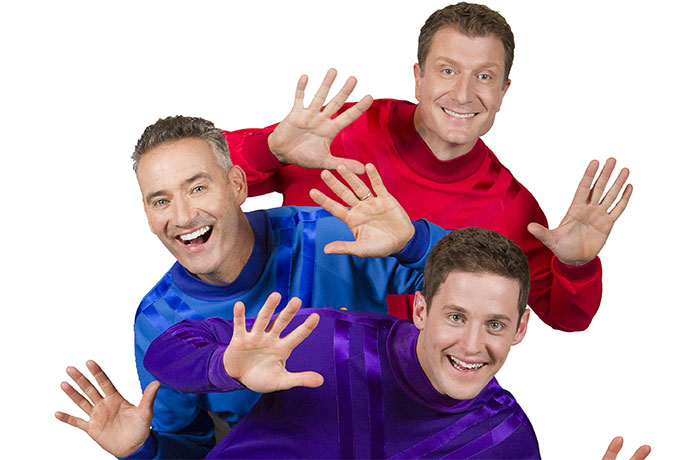 Known for their catchy songs and loveable personalities, The Wiggles are a staple of Aussie children's entertainment and now there's three fresh faces donning the band's signature skivvies.

After a line-up change last year, three new performers have joined The Wiggles and will be introduced to children across the nation in their upcoming 'Taking Off' tour which will touch down at Penrith Panthers on Thursday, May 2.
The band will still be led by original member and creator Anthony Field who will guide along new talents Simon Pryce, Lachlan Gillespie and Emma Watkins.
The tour follows on from the band's recent CD and DVD releases entitled 'Taking Off!' which unveiled new material.
Red wiggle Simon, who lived in Penrith for three years while studying drama locally, said that he is excited to return to the area.
"…I've been back a couple of times over the years, I'm really excited to be coming back. There's always so many changes that have happened through Penrith over the years, it's amazing to see when you go back there… I have a lot of fond memories of the wonderful times when I studied there," he said.
Emma, who will be wearing the yellow skivvy, said that the concert will have something for both old and new fans to enjoy.
"It's actually a mix of original Wiggles and the new Wiggles stuff… so it's a great mixture of all the classics like 'Hot Potato' and 'Toot Toot Chugga Chugga Big Red Car' and there's new songs from our new album 'Taking Off' like 'Do the Propeller' which is really great because the children can actually see all three of our voices which is a little bit different to the original Wiggles songs," she said.
"But they can also expect people that they know like Captain Feathersword, Dorothy the Dinosaur, Henry and Wags".
Similar to the original line-up, each of the new members brings something different and exciting to the band's repertoire.
Lachlan, the purple Wiggle, shares the same carefree and zany persona as his predecessor Jeff and comes up with inventive ideas and poems.
Simon is known for his impressive operatic voice, while Emma is a skilled dancer an also plays the drums.
As the first female member of The Wiggles, Emma gets a lot of attention from young girls who dress up like her with bows in their hair.
"I think essentially all of us are role models, doesn't matter if we're girls or boys or dinosaurs or octopuses but it is really nice and I think, we've actually heard the original Wiggles say that if they knew this was going to be a world phenomenon they would have chosen a girl in the first place… I think the time has come for it to change and I'm really honoured to be a part of it," she said.
All three performers have had experience with The Wiggles, having toured extensively in various back-up roles over the years.
Despite this, they each embarked on an eight month training course where they followed the original Wiggles touring Australia and observed them in action.
"We had the original Wiggles, watching them while we were on stage… taking more notice and being fed the opportunity to introduce songs and just listening to their stories on the road is pretty much the best way that we were able to learn," Emma said.
She said that simply getting the chance to meet and interact with children was good training for her role as a Wiggle.
"The most important thing about being a Wiggle is that you're genuine… it's about having fun and the children enjoying the show, the whole show is about them… if we're having fun we always try to change up the show on stage then that reflects back into the audience and the audience's vibe reflects onto us which gives us a bit of a boost everyday so that's really nice too," she said.
Having sold millions of CDs across the globe, The Wiggles have built up a reputation for being one of the greatest children's groups ever and established a solid fan base among kids and parents alike.
According to Emma, the group has been so successful due to the original members' background in children's education, which they studied at Sydney's Macquarie University.
"I think that grounding and understanding of children's minds and how they think is really the basis of The Wiggles… Simon, Lachlan and I are trying to carry that legacy through," she said.
The Western Weekender has family passes to The Wiggles concert at Penrith Panthers on Thursday, May 2 at 1pm. For your chance to win, call 4722 2998 today (Monday, April 29) between 4pm and 5pm and ask for Cameron. Authorised under NSW Permit Number LTPM/12/01138. Terms and conditions at www.westernweekender.com.au.