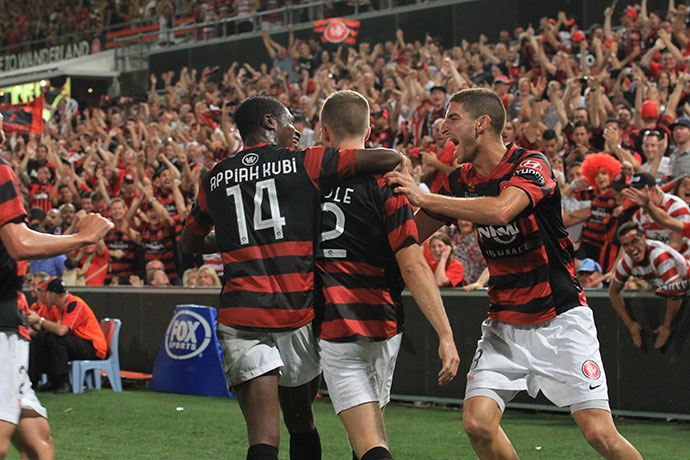 As the sun sets on the season that has revived football in Australia, A-League officials are in final preparations for what is expected to be a thrilling Grand Final at Allianz Stadium on Sunday.

There could be no more fitting scenario for the A-League than to have the Western Sydney Wanderers complete their fairytale first season by winning Sunday's Grand Final, but in reality, the job has already been done – soccer is back.
A crowd of about 45,000 is expected on Sunday – the game is officially a sellout and a massive audience is expected to watch on Fox Sports.
There's little doubt that the timing is perfect – rugby league is in a club football-free weekend, meaning plenty of people will turn over to follow the fortunes of the Wanderers on Sunday.
"We've had the goal from the beginning to make the grand final and to hold up that trophy is another one," said Wanderers skipper, Michael Beauchamp.
"The grand final is going to come down to a lot of things but the main thing is who wants it the most and who's willing to put everything on the line. We won't be leaving anything on the pitch."
Beauchamp said his side were feeling very relaxed ahead of the biggest game of the club's short existence.
He'll be urging his teammates to soak up the rare occasion on Sunday.
"I'll try to say my bit on Sunday as well as the boss (Tony Popovic) but I think the main thing is to go out and enjoy it because it's like they say with your wedding day – it comes and goes so fast – so you want to enjoy it as much as you can," he said.
"Hopefully all the boys take it in as well, especially the lead up… it's all about taking it for what it is because it doesn't come around very often. I'm sure everyone is going to be ready for the match and hopefully they'll enjoy it."

In a tremendous Penrith link to the big day, young players from Cranebrook United Soccer Club will play a big part in the event, walking out onto the hallowed Allianz Stadium turf with the players from both the Wanderers and Mariners.
"We applied in August last year for the Hyundai Goals for Grassroots," Club Secretary, Gail Macleod-Jones said.
"We virtually forgot about it until the morning of April Fool's Day when we got a call to say we were successful, and that if the Wanderers make the Grand Final, we would be there with them."
Initially Ms Macleod-Jones thought it was an April Fool's Day prank until they got the email confirmation later that day.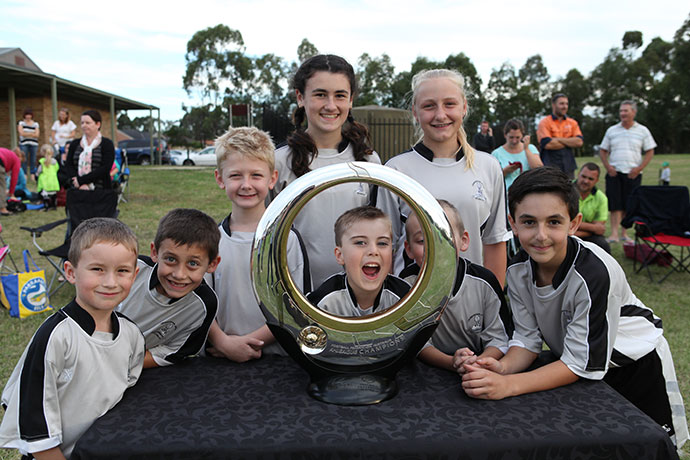 As part of their selection the club has received a $1,000 grant plus will receive a further $1,000 for each goal the Wanderers score.
Two of the lucky players to be walking out with the players on Sunday are 13-year-old Kaitlin Hansen and 11-year-old Indii Newman.
"I was screaming and running through the house when I heard the news," Kaitlin said.
"I was very excited too, I can't wait to actually watch the game live on Sunday, it's going to be heaps cool," Indii added.
Ms Macleod-Jones said getting selected was one of the best things to ever happen to the hardworking local club.
"It mean we give our kids the opportunity to go to the Grand Final. It's great for soccer, it's great for the club and it's great for the association," she said.

With the Wanderers facing some crowd issues this season, police have warned all fans attending the game to be on their best behaviour.
Police have launched a high-visibility operation to ensure a safe and secure environment, which will include ramped-up security measures such as the screening of any bags being taken into the ground.
The operation will include officers from Central and North West Metropolitan and Northern Regions, the Public Order and Riot Squad (PORS), Operations Support Group (OSG), Mounted Police Unit, Dog Unit, Police Transport Command, PolAir, Licensing Police and Traffic and Highway Patrol Command.
A large number of security guards will also assist police to target trouble makers, anti-social behaviour and alcohol-related crime, and ensure all fans get to and from the stadium safely.
Operation Commander, Assistant Commissioner Mark Murdoch, is urging the fans to enjoy the finals as a day of celebration that is not marred by hooliganism.
"The A-League Grand Final stands to be a captivating game attracting a sell-out crowd in excess of 43,000 people," Assistant Commissioner Murdoch said.
"This is meant to be a fun, family-friendly event, so we are asking people to consider those around them. There is a difference between a passionate football fan and a hooligan.
"Whether your team wins or loses, there is no excuse for violent, dangerous or anti-social behaviour.
"Anyone who breaks the law or the FFA Spectator Code of Conduct will face the consequences – including criminal charges, fines, ejection from the ground and/or banning notices."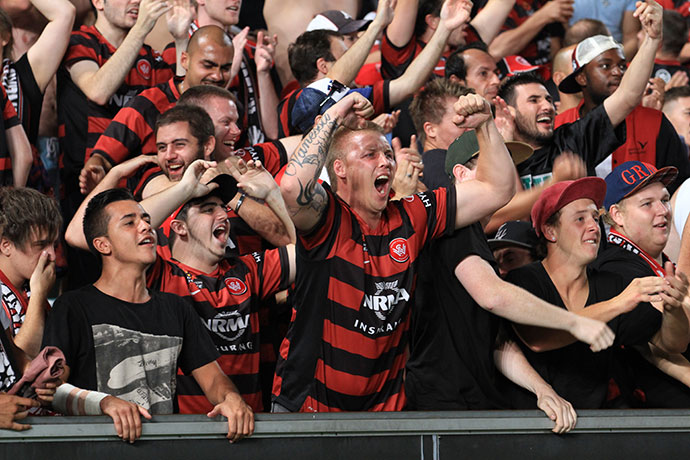 Sunday's Grand Final will be broadcast live on Fox Sports, and they will present more than six hours of coverage. It'll start at 1pm with massive build-up ahead of the 4pm kick-off.
Fox's coverage begins with the reliving of one of Australian sport's greatest Grand Finals – the 2011 championship between Brisbane and Central Coast.
Coverage continues at 2.00pm with Simon Hill and Mark Rudan taking a look back at both team's journey to the decider on the Road to the Grand Final.
At 3.00pm the official countdown begins when Rudan is joined by Adam Peacock, Mark Bosnich and Robbie Slater at Allianz Stadium for a bumper one hour live Grand Final preview show.
The hosts will deliver all the breaking news and team movements plus cross to both coaches to hear their thoughts ahead of their greatest test.
Then at 4.00pm EST, Hill and Harper take over the reins to call all the action.
Radio 2UE will broadcast from the ground from 2pm and will call the match live from 4pm.
The Western Weekender will be at Allianz Stadium for the Grand Final. We'll have a full gallery up on Facebook early next week plus complete coverage online and in print following Sunday's epic decider.