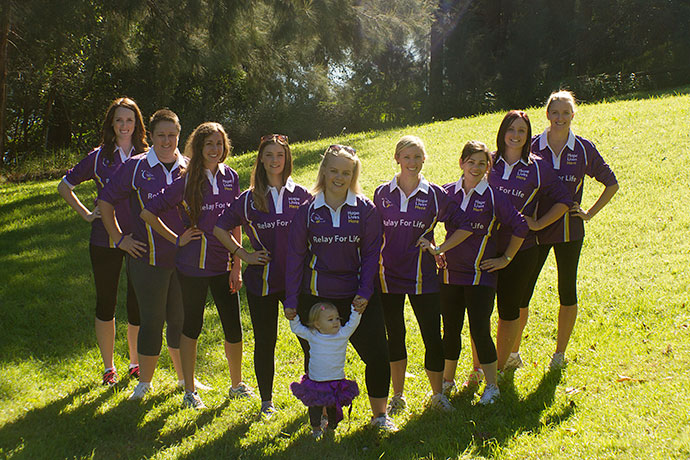 Thousands of local residents will flock to Howell Oval in Penrith this weekend all with a common goal – to raise much needed funds for the Cancer Council.

For the past 12 years Relay for Life teams have been running, jogging and walking around the oval, raising millions of dollars for cancer research and each year the event gets bigger and bigger.
The goal for Penrith's Relay for life 2013 is to raise $250,000 and participants are well on the way to making that goal a reality with the amount rising each day in the lead-up to the annual event.
Over 100 teams have registered to take part and each has been busily fundraising in preparation for the Relay.
Penrith Police have entered their team for the second year and are looking forward to once again raising awareness in the community.
Thyroid cancer survivor, Sergeant Rebecca McMillan will be making the walk again this year as part of the Penrith Police team.
"One of the main focuses for us, especially as police, is raising awareness," she said.
"As police we are always aware of our surroundings, of what is going on around us but we all need to be aware of ourselves as well.
"I was really unaware. When I first found the lump I just thought 'oh that's weird' and when I was tired I just thought that it was because I had two young kids. I didn't even know where my thyroid was."
Ms McMillan has been cancer free for just over five years and therefore will be walking the 'Survivors Lap' surrounded by others from the area who have fought the battle and won.
"That first lap is extremely emotional and hard for me to accept and participate as I am walking around an oval with a sash stating I am a survivor when I know so many are there remembering those that they have lost," she said.
"I really hope that one day we'll have done enough research to create specific treatments for each different kind of cancer."
The event raises awareness and funds for the Cancer Council but Ms McMillan said that it is also great to boost morale in the community.
"It is very full on but it is really good for the community," she said.
"It really shows how many people in the community are affected – I get surprised each year by how many people are there but we are all there for each other."
Another team, 'Keep Calm and Relay', has already raised $5,000 and is hoping to raise even more over the weekend.
"The reason why everyone in our team is doing Relay is because we have all been touched by cancer in some way," said team captain, Tenniel Higgins from Regentville.
"Some have family and friends currently battling and some of us have lost loved ones. It's a great way to remember those who are no longer with us and celebrate those who have survived their battle.
"We invite all our friends and family down to come and do some laps with us, which also raises awareness for the charity."
You can donate online to the 'Keep Calm and Relay' team at http://relay.cancercouncil.com.au/2013/penrith_2013/7-Shades-of-Play.