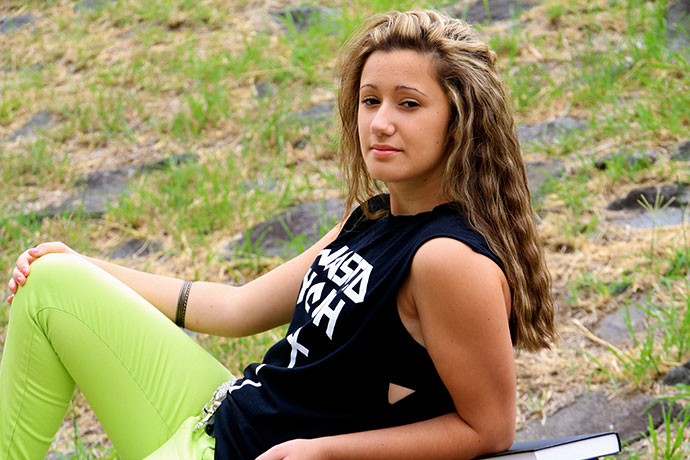 At the tender age of 14, singer song-writer Katie Panucci is already bound for stardom after making her first record and performing at festivals.

The Western Sydney school girl, who started singing when she was seven-years-old and can also play guitar and keyboard, has spent the last year writing and recording her own songs.
She has already won fans with her single 'Doesn't Make You Cool', which has sold well since its release on iTunes in late February.
The song has a strong anti-bullying message that Katie was inspired to explore after witnessing bullying herself.
"I've witnessed it and I've also been a personal victim of bullying… that's heavily influenced the song," she said.
"The song is mainly about raising awareness to the subject of bullying and preventing suicide, self-harm and things like that."
Katie's inspirational lyrics caught the attention of well-known charity Angel's Goal, who have made her the Youth Ambassador for their anti-bullying campaign alongside celebrities Jeff Fenech, Charlotte Dawson and Ronnie Burns.
The role, which Katie is excited to fulfill, involves raising awareness about bullying and performing at charity events.
Since the release of her first single, Katie has also built up a strong fan base over the internet via YouTube and her Facebook page where she has almost 9,000 'likes'.
"It feels great, I just can't believe how much attention it's got. I'm glad that it's been received so well and how great everything's going at the moment," she said.
This success will be followed up by Katie's first EP, which will debut in the coming weeks and shows off a diverse range of music.
"It's all different kinds of music really, there's some really party dance music, some inspirational songs just about being yourself…it's kind of a pop-rock genre as well," she said.
The young songstress has also been introducing her music to concert-goers and recently played at the Youth Valley Festival in Penrith and the Bring It On Festival in Fairfield, which was headlined by 'X-Factor' stars The Collective.
Although Katie admits that balancing school work and singing is difficult, she plans to continue pursuing her passion.
"I'm probably just going to continue writing and recording then hopefully I can make an album and see where it takes me," she said.