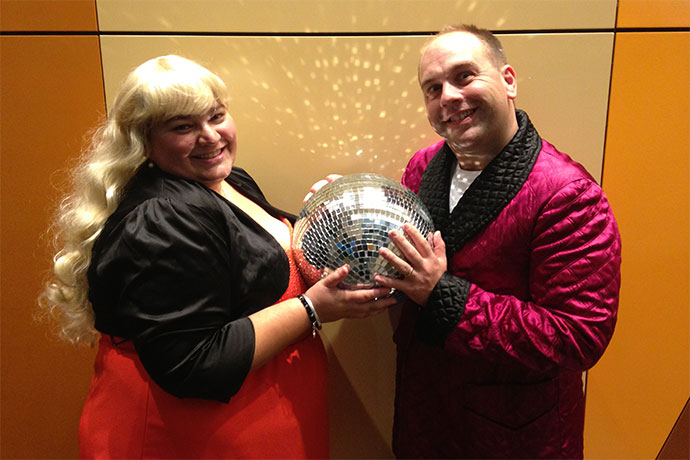 The Eurovision Song Contest has become a cultural icon with millions of viewers tuning in each year to enjoy the multicultural music and glamour of the world's most infamous talent quest. Now audiences in Penrith can get a taste of the campy glitz with 'Eurobeat – Almost Eurovision', an irreverent comedy, which emulates and mocks in equal measure.
The hilarious musical, which was written by Craig Christie and Andrew Patterson, will be staged by the Penrith Musical Comedy Company at the Q Theatre throughout May.
After a highly successful sold-out season of 'Hairspray' last year, the company has been preparing to leave their audience in stitches with this funny satire.
Modeled closely on the format of the Eurovision Song Contest, 'Eurobeat' is set in Sarajevo and features a multicultural smorgasbord of music with 14 diverse acts, each representing a different country.
Every nation and musical genre imaginable makes an appearance (and receives some light-hearted mocking) – there's the slick Swedish pop of 'AVLA', Russian boy band 'KGBoiz', powerful Hungarian folk music from 'The Molnar Sisters' and the heartfelt Irish crooning of 'Ronan Corr'.
Between each song, the audience is treated to the hilarious presenting antics of the show's hosts; glamorous athlete turned TV star Boyka and her dim-witted brother Sergei who introduce the acts and provide some light entertainment.
Just like in the real Eurovision Song Contest, the winner will be decided by the audience members who are each given a nationality and ballot form upon entry, then get to vote for their favourite act on the night.
During the interval, the votes will be counted and the winner is announced, returning to the stage for a triumphant reprise of their song.
The show's format makes it highly dynamic with each performance offering something new to the audience, according to leading lady Kat Shaw.
"We do a lot of ad lib and a lot of it happens on the night; it says in the beginning of the script, 'here's an outline but go for your life with what you want to do' so if the audience laughs particularly loudly at one section then Grant and I, who are the hosts, play up on that… there's a lot of room for us to be flexible with what we present," Shaw said.
Shaw added that people of all ages and backgrounds can enjoy the catchy music and witty comedy of 'Eurobeat'.
"I was just saying to friends of mine on the weekend that I think people who love the Eurovision Song Contest and people that can't tolerate it will both like it because there's enough that's like it to make it enjoyable and then it pokes a lot of fun at it, so it's good. I say all the time that it's like 'The Simpsons', there are jokes in there for the kids and then there are jokes that the kids won't understand that the parents will think are hilarious."
Shaw, who co-hosts 'Eurobeat' alongside the company's President Grant Jones, is a full-time music and drama teacher who has been performing in musicals for 23 years.
With the opening night of 'Eurobeat' getting closer, the cast have been busy at work preparing.
"We've been rehearsing twice a week and there's going to be a few more rehearsals as we lead up. Someone mentioned last night that we've only got 15 sleeps to go so it's getting very exciting now. We step up now and do a few extra ones as we get closer to it but we've been going for a while," Shaw said.
Shaw is joined by a cast of 20 other talented performers from around the Sydney area, with most playing multiple roles in each country's act throughout the show.
And the Penrith Musical Comedy Company even made their own costumes.
"All the costumes are done by one of the people in the cast who's an amazing seamstress so she's done all the costume designs and made the costumes for the show… there's some really, really, really good performers in the show," Shaw said.
With its witty send-up of Eurovision and interactive live voting system, 'Eurobeat' audience members are in for an exciting evening .
"It's lots of fun, I don't think I've ever seen an audience have as much fun as they have in a show like this one," Shaw said.
'Eurobeat – Almost Eurovision' will show at the Q Theatre at the Joan Sutherland Performing Arts Centre throughout May starting on Friday, May 3. Tickets are $30. For bookings or more information, call 4723 7600 or visit www.jspac.com.au.