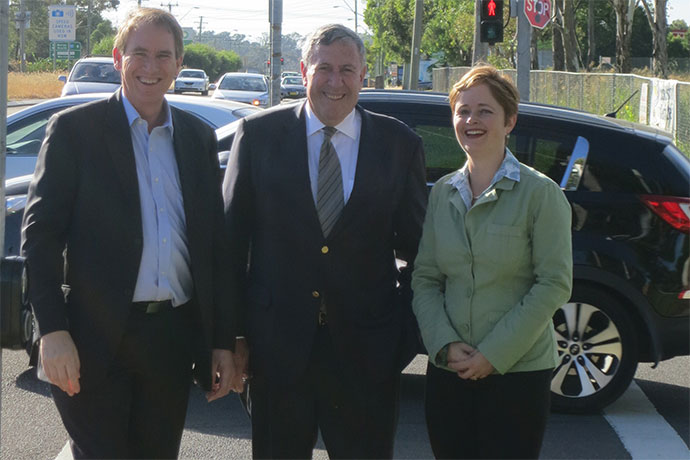 Roads Minister Duncan Gay has announced that the State Government will fund the much needed Werrington Arterial and is now calling on the Federal Government to match their funding in the upcoming May Federal Budget.
The Werrington Arterial is in the final stages of planning and provides a link between the M4 motorway and Great Western Highway along Kent Road/Gipps Street and Werrington Road/Christie Street to link with the Castlereagh Freeway corridor in the vicinity of Marsden Park.
Speaking to the Weekender in Claremont Meadows this morning, Mr Gay said that the State Government had made an official submission to the Federal Government for funding of the first stage of the pivotal piece of roads infrastructure.
"We can't say exactly how much the first stage will cost, but the project is between $70 million and $90 million and we have our money ready to go," he said.
"We are calling on the Federal Government to provide their half of the funds in the budget this year."
He said the State Government has budgeted for the road in the State Government's own budget this year.
Mr Gay was joined by Mulgoa MP, Tanya Davies and Londonderyy MP, Bart Bassett, both of whom were instrumental in lobbying Mr Gay for the funding.
"I lead a delegation of western Sydney MPs to approach the Roads Minister for the funding," explained Ms Davies.
"This road is so vital to the local community not just now but in the long term as this area will be further developed, service the Health and Education Precinct, the University of Western Sydney and eventually form part of the M9," she said.
Mr Bassett added that the the Werrington Arterial will provide a vital link from suburbs like Penrith and St Marys to the Marsden Park business precinct that has been accelerated for development by the State Government.
"We have already had announcements from businesses like Bunnings and IKEA so Marsden Park is going to be a major regional hub servicing the west and north west of Sydney and this road is important infrastructure," he said.
"I am very excited to see this project progress."
Mr Gay joked that now the announcement has been made he will not have to step over Ms Davies, Mr Bassett and Penrith MP, Stuart Ayres, "queuing outside my office".
"[The Federal Government] have had our proposal for some time so the ball is now in their court," the Roads Minister said.