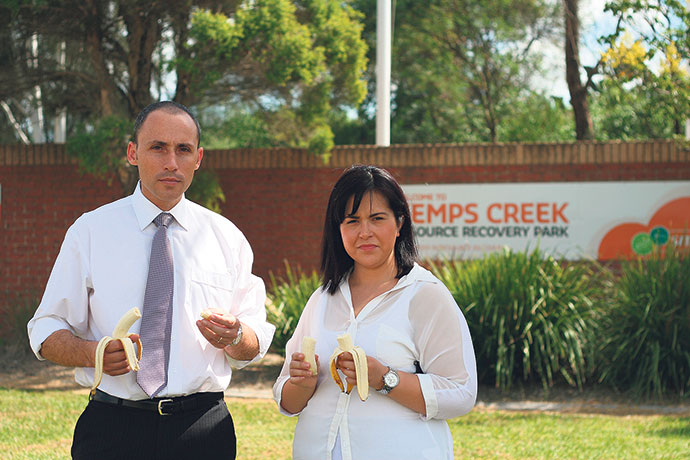 The campaign against waste being brought from the former uranium smelter at Hunters Hill to Kemps Creek continued last week when Lindsay MP, David Bradbury, and Penrith Councillor, Prue Car, set out to "set the record straight" on the radioactivity of the soil in question.

Whilst Mulgoa MP, Tanya Davies, was serving as a Penrith Councillor, she made the claim that the radioactivity of the soil was the same as that of a banana.
But research done by Mr Bradbury and Cr Car show this not to be the case.
A study conducted by ANSTO found that the waste at Hunters Hill contained radioactive "hot spots" measuring over 700 becquerels per gram. Numerous studies indicate that a banana generally contains around 0.13 becquerels per gram.
"The NSW Liberals have gone bananas," Mr Bradbury said.
"This ludicrous claim is an insult to the intelligence of local residents. If this radioactive waste is the same as a banana, why can't the waste go to another site?"
Cr Car added that the comments were also insulting to the families of Hunters Hill who had members pass away due to non-hereditary cancers believed to be linked to the radiation.
"There are studies dating back to the 1980's showing the radiation levels of the soil… this just adds insult to injury," she said.
Mrs Davies reiterated that, "nothing is planned to be sent to Kemps Creek that has not already been sent there under its current restricted solid waste licence".
Meanwhile, Cr Car again took up the fight in Council on Monday night to have a Council-funded rally against the waste but to no avail.
The rally was first brought up at a Council meeting on February 25 but Deputy Mayor, Ross Fowler, suggested the rally issue be postponed to the following meeting on March 11. At March 11 the rally was voted down, causing a walk out of Labor Councillors.
The minutes of that meeting were passed at Monday's meeting, March 25, but Cr Car could not convince her fellow Councillors to support the rally.
In a further twist, Greens Councillor Michelle Tormey then tried to have money from each ward donated to the Residents Against Radioactive Dumping Community Group through voted works, but was also unsuccessful.