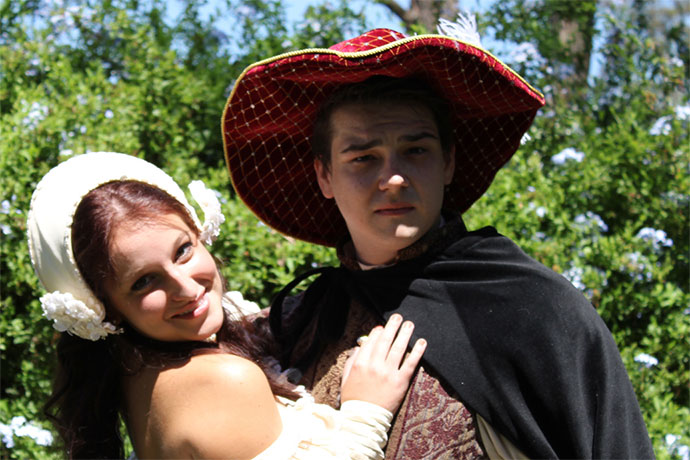 Acting is all in the family as three generations of local thespians unite to perform a new, lively production of Shakespeare's classic play 'The Taming of the Shrew'.

The show is a unique, engaging interpretation of the bard's renowned drama and will play at the Joan Sutherland Performing Arts Centre for three shows only on Friday, March 8 and Saturday, March 9.
Despite the fact that it was written in the Elizabethan era, Shakespeare's witty exploration of gender relations remains relevant to modern audiences.
It follows the plight of two very different sisters – the beautiful, meek Bianca is wooed by many gentleman but her father will not let her marry until her feisty elder sister Katharina does.
Bianca's dreams of marriage seem hopeless until her suitors convince fortune-seeking Petruchio to court Katharina for her large dowry.
The result is a hilarious battle of the sexes that this production revives with innovative direction and impassioned performances.
A Commedia dell'arte chorus mimics the effect of a Greek chorus and adds authenticity and excitement to the play.
Starring in the production is Blue Mountains resident Joe Dicker, a stage veteran who wowed audiences as the original King Herod in Australia's first production of Jesus Christ Superstar.
The play was directed by Joe's NIDA educated wife Carol, while their daughter Samantha and grandchildren Cameron and Madelaine co-star.
Carol said that she enjoyed the experience of 'The Taming of the Shrew' and believes the audience will too.
"It's a thrill to all be a part of a single production – particularly one as special as this. The cast is fantastic and the show is really great, very funny," she said.
'The Taming of the Shrew' will show at the Joan Sutherland Performing Arts Centre on Friday, March 8 and Saturday, March 9. For bookings contact 4723 7600 or visit jspac.com.au