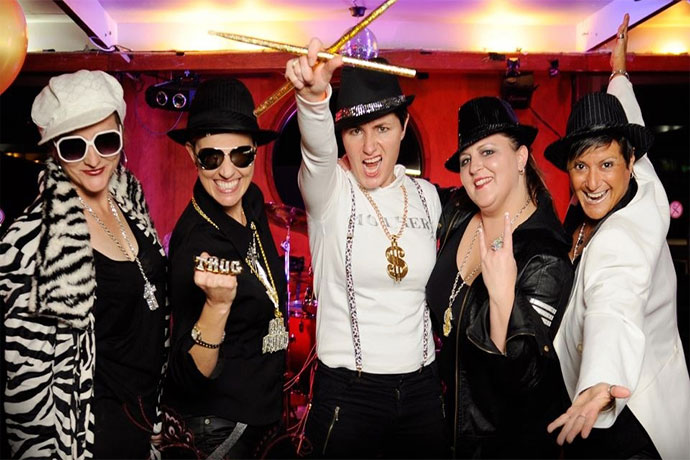 Meet Sydney's funkiest all girl band, The Frocks!

If you are looking to party this long weekend, then look no further than The Frocks, who will be appearing at Panthers on Saturday night.
With music that entertains, music that will have you tearing up the dance floor, and best of all music that keeps you partying long into the night, their infectious sound puts the rock into frock.
The Frocks' extensive repertoire includes the glittering disco hits of the 70's, the bubble-gum flavoured pop of the 80's, the break dancing beats of the 90's, and the rocking radio hits of today.
The Frocks have had the pleasure of playing at some of the coolest venues in Sydney. These include the Newtown Hotel, Slide Nightclub, Flinders Hotel, Columbian Hotel, Cooper's Arms Hotel, Wentworthville Leagues Club, Canterbury Hurlstone Park RSL Club, Asquith Leagues Club, Blacktown Workers Sports Club and a wide range of corporate, private and special events such as 'Glam 2006' playing alongside Jimmy Barnes and Johnny Diesel, to audiences of up to 10,000.
You won't want the night to end, listening to classics like Bryan Adams' 'Summer of 69', 'You give love a bad name' by Bon Jovi, 'Man I feel like a woman' by Shania Twain and new hits like 'Bad Romance' from Lady Gaga, 'Funhouse' by Pink and 'Girlfriend' by Avril Levigne.
The Frocks have been an established band for over 10 years and know how to ensure a good time for all!
With the powerhouse vocals of Marny and Maria, funky feels from bass player Louise, lush licks from guitarist Lisa and rocking rhythms from drummer Raelene, you will want to frock on all night long.
The Frocks will appear at Penrith Panthers from 10pm on Saturday, March 30. Entry is free!