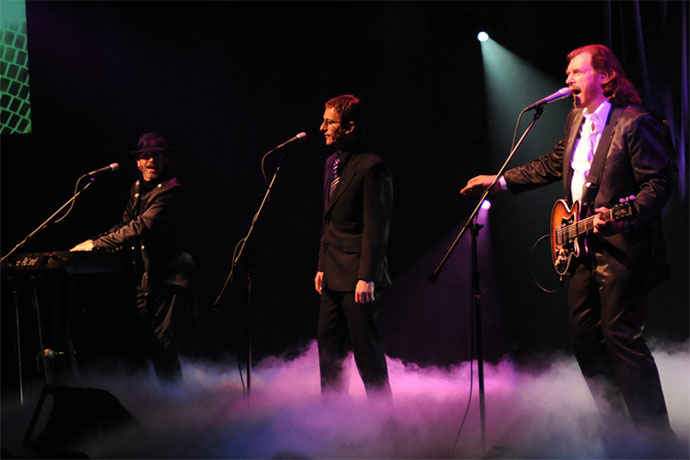 After playing for audiences in Las Vegas, the Australian Bee Gees show is coming home and bringing their spectacular tribute show with them.

The band will perform their brand new 'Trilogy Tour' at Penrith's Evan Theatre on Saturday, March 2.
The dazzling career of the Bee Gees is covered in 'Trilogy', which includes music from the band's earliest years through to their legendary 'One Night Only' concert in Las Vegas.
The harmonies and disco pop beats which made the Bee Gees such a success will be authentically replicated on stage by these veteran performers.
Dedicated to providing an authentic experience for audiences, the Australian Bee Gees Show is made up of seasoned musicians Michael Cliff, David Scott, Wayne Hosking, Tony Richards and Rick Powell.
Together they have taken their show around the world and, since 2011, have been wowing audiences at The Excalibur Hotel and Casino in Las Vegas.
Michael Clift performs as Barry Gibb on guitar and vocals and draws experience from performing in his own band, Red Tape, which was listed in the 'Who's Who of Australian Rock'.
Playing Robin Gibb on vocals is David Scott, but he also knows how to play the guitar and was part of the Eagles Tribute show, Hotel California.
Wayne Hosking is Maurice Gibb on the keyboard, guitar and vocals and has extensive musical experience – he has even written an opera.
Tony Richards helps out on bass guitar and Rick Powell on the drums.
Fans will be astounded to hear the men of the Australian Bee Gees show capture the style and essence of their favourite band as they perform all their greatest hits including 'More Than A Woman', 'Massachusetts', 'How Deep Is Your Love' and 'You Should Be Dancing'.
The show will also tell the story of the Gibb brothers in a multi-media display that captures the mood and memories of the era.
After 16 years, the show has racked up over 2,000 performances in 40 countries and are still impressing with their magical take on the Bee Gees music.
Here's your chance to relive the best of the Bee Gees so don't miss out on this exciting performance.
The Australian Bee Gees Trilogy will be performing at the Evan Theatre, Penrith Panthers on Saturday, March 2 at 8pm and doors open at 7.30pm.
Tickets are $36.50 for members and visitors or $66.45 including a meal at the stylish Osso restaurant.
To book or for more information, call 4720 5555 or visit www.penrith.panthers.com.au.