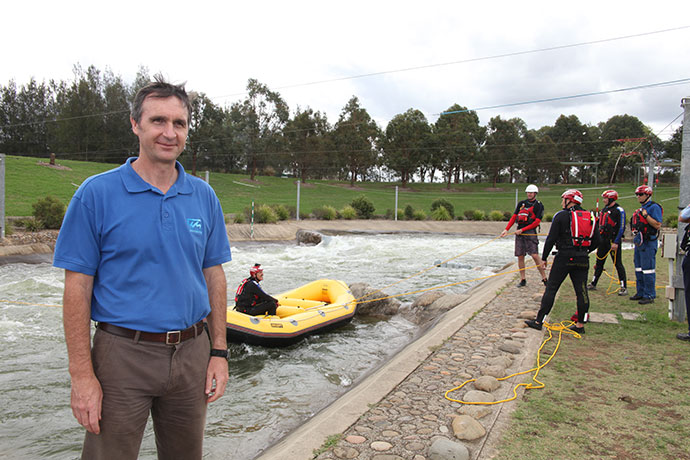 One of Penrith's greatest tourism icons, the Whitewater Stadium, is struggling with electricity price increases forcing its management to even consider the viability of purchasing their own generator.

Jack Hodge, Penrith Whitewater Stadium Manager, said that the tourism hot spot and former Olympic venue has seen an increase in electricity prices both due to the carbon tax and ever-increasing network costs.
"Electricity prices are a complicated matter but the main contributor to our electricity bills are the network costs which are demand based," he said.
"The carbon tax has also contributed to a forecast increase in our electricity bills by 15 per cent.
"We have been trying to reduce these costs through demand management – by shutting down the stadium in the peak electricity usage times after 1pm on weekdays from April to October inclusive."
Mr Hodge admitted that there is some revenue loss associated with the routine closures but said it was necessary whilst alternatives such as installing a diesel generator are examined.
"We are looking at whether it would be viable to purchase a diesel generator that we could switch to and effectively go offline during peak times," he said.
Penrith Councillor Bernard Bratusa said that the 'massaging' of operations has many negative implications for the city's premier tourist destination.
"Imagine the damage if a tourist operator scouting opportunities walked into the facility on a beautiful summer's day only to find it shut down," he said.
"The reality is the carbon tax is directly affecting the long term financial viability of Penrith Whitewater."
MP for Lindsay, David Bradbury said that in NSW electricity prices have risen by 40 per cent over the last four years, mostly as a result of the NSW Government gold plating the network.
"These increased network costs have nothing to do with the carbon price," he said.
Despite this major setback, the Whitewater Stadium has seen an unprecedented increase in participation in canoeing and kayaking.
"Overall participation in canoeing and kayaking increased by 119 per cent because we had a significant number of international athletes," Mr Hodge said.