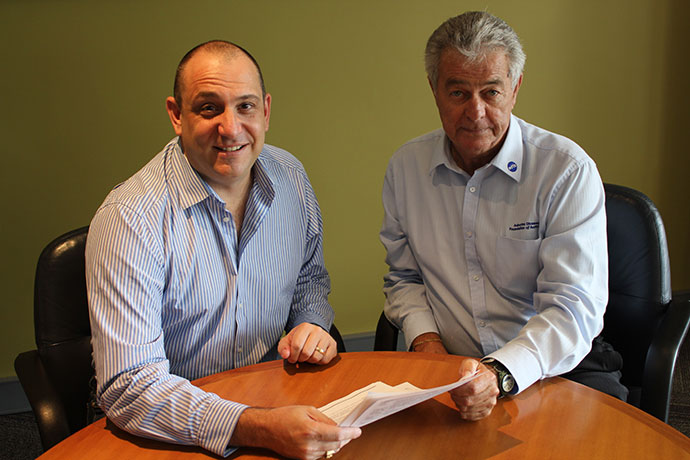 The safe management and disposal of asbestos across the City will soon be made easier, thanks to a policy being developed by Penrith Council.
The Asbestos Policy will consolidate and refresh existing policies and procedures. It will outline roles and responsibilities across various areas including education, and the management of land and waste in the community. The policy will also determine how Council responds to and manages asbestos risks in its own buildings.
We are developing our policy in line with the Model Asbestos Policy released by the NSW Government and the Local Government Shires Association late last year, and with input from relevant industry representatives.
Asbestos Disease Foundation Australia President Barry Robson met with Penrith Mayor Cr Mark Davies this week to discuss the policy.
"I met with the team at Penrith City Council and was impressed with their approach to developing this important policy" Mr Robson said. "It's vital that the procedures for the safe removal of asbestos are clear and up-to-date for the safety of everyone who lives and works in the City," Barry said.
Penrith Mayor Cr Mark Davies said all councils need to adopt an asbestos policy or adapt an existing policy to ensure the approach to managing and safely removing asbestos is the same no matter where you live.
"Councils play an important role, working with the State Government and the community to manage the risks associated with asbestos in building materials and land. The Model Asbestos Policy gives councils a framework to follow and will promote consistency," he said.
"As well as developing the new policy, we will continue to support education campaigns run with the NSW Government, the Asbestos Diseases Research Institute (ADRI) and the Asbestos Education Committee," Cr Davies said.