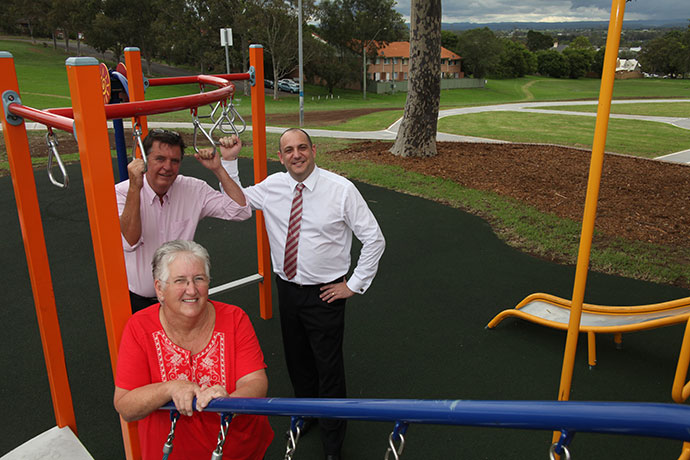 Penrith City Council is doing its bit to encourage healthy and active lifestyles amongst our youth, with investment in a spate of playgrounds across the area.

Last week, Penrith Mayor, Mark Davies, officially opened the newly refurbished Bennett Park in St Marys. He was joined by Councillors Greg Davies and Jackie Greenow, who helped to initiate the Bennett Park playground work.
Cr Mark Davies said Bennett Park sports a new bike path among its local facilities for St Marys families and residents to enjoy.
"The Bennett Park playground is just one example of recent works to benefit local families," he said.
The bike park is mapped out like a road system for children to ride their bikes and scooters on and was the idea of Cr Greenow.
"We have a CARES track in St Marys but it is not open to the public as you have to make a booking, so I thought it would be a good idea to have a public bike park and Bennett Park was the chosen location," Cr Greenow said.
Other investments have included the new $75,000 playgrounds at Warburton Crescent, Werrington Downs and at Shakespeare Drive, St Clair.
"Further improvements include three new fields reconstructed at 'Potter Fields' in Shepherd Street, Colyton at a value of $100,000 and two fields reconstructed at Parker Street Reserve, Penrith worth $50,000," Cr Mark Davies added.
Another recent boost was for Blue Hills Oval, where a field was reconstructed in partnership with Glenmore Park Football Club, which contributed $15,000 towards the works.
The playground and field works were funded through Section 94 developer contributions. Field reconstruction at Parker Street Reserve was made possible through Special Rate Variation funding.
Two "inclusive" playgrounds have also recently opened in Jordan Springs and North Penrith.