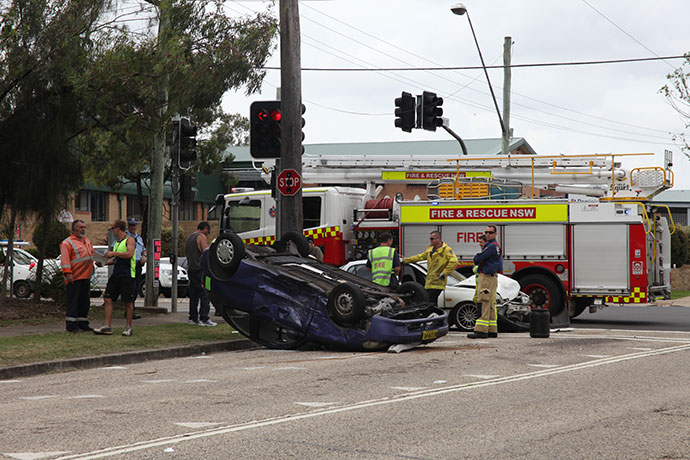 A car has spectacularly flipped after a collision at the intersection of Copeland Street and The Northern Road this afternoon.

Just after 1pm, a male in a purple car travelling southbound along the Northern Road allegedly ran a red light to turn right into Copeland Street.
A white car travelling northbound along The Northern Road collided with the purple car, causing it to roll over a third car that was stationary at the intersection.
Eye-witness reports say no-one was seriously injured despite the seriousness of the crash and police are on scene investigating.
Briony Green, her partner and two young girls were in their car sitting at the traffic lights when all of a sudden the purple car rolled over the top of their bonnet.
"We had just done the shopping and were heading home… basically we were stopped at the lights when the purple car ran the red light turning into Copeland Street," she said.
"A white car that had the green light then hit the purple car as it was turning and flipped it, it rolled over the top of us and landed on its roof.
"It was quite scary and our two little girls were i the car with us."
Ms Green said that the driver of the white car suffered a possible bruised chest but that no-one seemed to sustain any major injuries.
She said that unfortunately, the three cars had to be towed because of the extensive damage.
"Our car was leaking coolant and we think the radiator is broken so it had to be towed," she said.
Police are investigating the accident and have gathered witness reports.