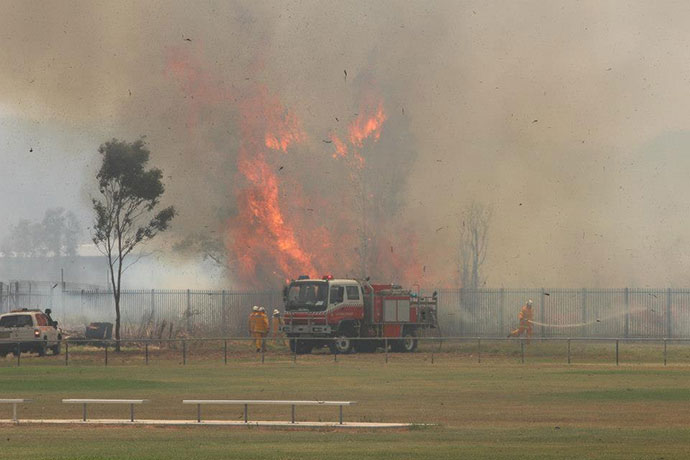 Today is officially Penrith's hottest day on record with the 46.5 degree maximum shortly after 2pm breaking the previous mark by half a degree.
In an extraordinary day in the greater west, temperatures reached 30 degrees by 10am and had exceed 41 degrees by 11.30am, clearly putting the 46.0 degree record set in 2001 in doubt.
Eventually, Penrith reached the record high at 2.16pm.
The soaring temperatures sparked a major emergency in the north of the city, near Cranebrook, where a fire at Hickey's Lane saw fire fighters working in extreme conditions to ensure homes did not come under threat.
It was the second blaze in 24 hours at the same site.
Paramedics have also been kept busy with heat affected patients right across Sydney. Just after 2pm, a 60-year-old Jamisontown man required assistance due to the conditions.
Whilst the temperature is now starting to drop, the Friday afternoon commute home both on the roads and via public transport is set to be a major test.
CityRail has already advised that there are significant delays on the rail network.
"Trains across the CityRail network, except for the Eastern Suburbs & Illawarra Line, are delayed up to 40 minutes due to overhead wiring and signal problems and the extreme heat," a statement said.
"Anyone catching public transport this afternoon is advised to take extra care and travel with a water bottle.
"If you feel unwell, don't board the train, bus or ferry – ask a staff member for help. If you feel unwell on a train, get off at the next station and ask for help from staff."
The records also tumbled in Sydney itself, which has recorded its hottest day on record with 45.8˚C recorded at Observatory Hill at 2.55pm.
This breaks the previous record of 45.3˚C on January 14, 1939.
"An unprecedented burst of heat across the Sydney basin today has caused many suburbs to experience temperatures over 45˚C," said Dick Whitaker Chief Meteorologist at Weather on 603.
"Penrith's temperature reached 46.5C, the hottest day on record. The all time record for Penrith was 46.0˚C set on January 15, 2001.
"Sydney Airport hit 46.4˚C also an all time record, the previous was 45.2˚C on January 1, 2006.
"Normally long term temperature records are only broken by 0.1˚C to 0.2˚C but many of today's records have been broken by 0.4˚C to 0.5˚C – we're in new temperature territory for Sydney."
A late afternoon storm is expected, which will bring cooler conditions to the area.
A total fire ban remains in place.