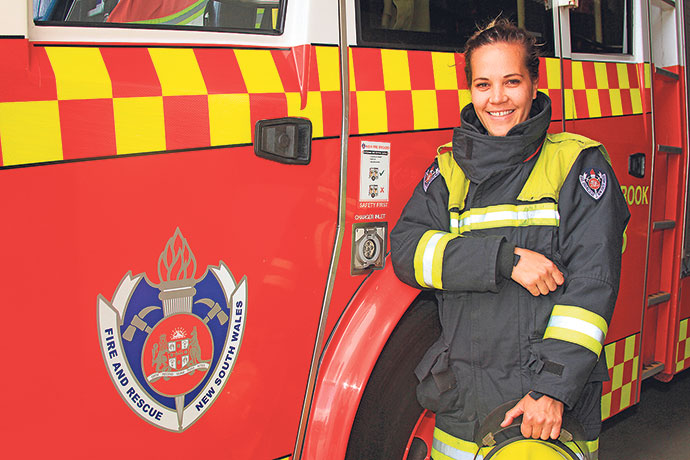 When Chantel D'Orazio walks through the local shops in her usual work attire she attracts glances and whispers – that's because not many people have seen a female fire fighter before.
Today, 3.52 per cent of NSW's fire fighters are female, but that is a vast improvement from just 1.1 per cent back in 2002. And Fire and Rescue NSW is hoping to encourage even more women to join the emergency service.
"I joined last year in June so went through three months of training at the centre in Sydney and have been at Cranebrook Fire Station for the last four months," she said. "When I told people that I was applying, many of them assumed that I was working in their offices, they couldn't believe I would actually be a fire fighter – you don't see too many female fire fighters and many people think that you actually cannot be one."
But, women are definitely allowed – they just have to pass the same stringent testing that is applied to all applicants. There are several steps in the recruitment process including online testing, medical testing and the Physical Aptitude Test (PAT), which requires all applicants to meet the same standards of physical fitness and ability.
"When I passed the physical aptitude test I was so relieved because I was really nervous about it," Ms D'Orazio said. "We did activities like the beep test, where you run a 20 metre distance and try to beat the beep, which gets faster. And we also went through different skills tests like holding the hose, a ladder run, running up stairs in a seven storey building, and running through a maze with a fogged up gas mask on so you can't see. About a quarter of the people doing the physical test were women, and there were men who didn't pass it, so it is definitely achievable!"
Fire and Rescue NSW do recognise though that the physical test can be the most challenging aspect of the recruitment process for women, so are helping women prepare for the test.
"Fire and Rescue NSW has introduced practice, or familiarisation, sessions for the PAT, and this has improved the number of women making it through the application process," a Fire and Rescue NSW spokesperson said. "The practice sessions are available to all prospective candidates, but women have found them useful to understand, and prepare for, the level of fitness required."
Ms D'Orazio said that she would like to see more women in the service as they have different skills that can be applied in fire fighting situations. "Women are good at being compassionate, and we are working with all different people across the community so it is important to have that diversity reflected in our services," she said.
For more information on being a fire fighter, visit www.fire.nsw.gov.au.