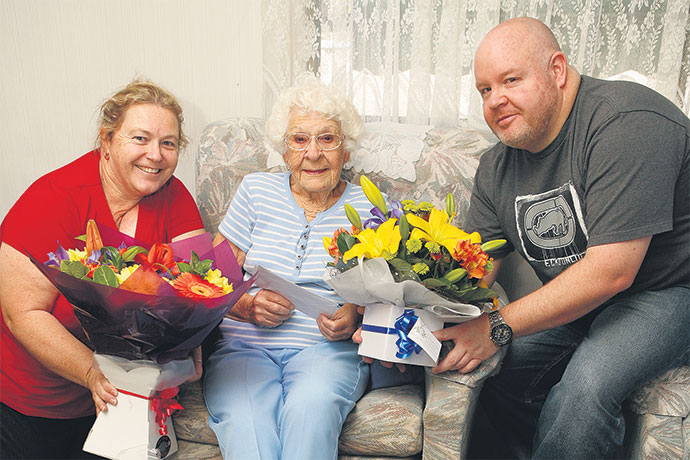 The St Marys community was horrified when 81-year-old Oxley Park resident, Thelma Pavey, was heartlessly attacked as she walked home last month.

As reported in the Weekender last week, Ms Pavey was grabbed from behind by a man as she walked along Adelaide Street in Oxley Park.
He stole her handbag and her radio and proceeded to flee the area towards Sydney Street. But an act of cruelty has been returned with several acts of kindness after locals rallied to support Ms Pavey in her time of need.
Aged care worker, Nancy Notley, heard of Ms Pavey's misfortune on the radio and approached St Marys Police to ask how she could help out.
"Elderly people are just beautiful… I asked around some local stores and they were more than willing to lend a hand. Priceline in Penrith donated a basket of goods and I have to thank Angel Florists of South Windsor too," she said.
Jason Donnelly, a freelance photographer, was touched by Ms Pavey's bravery and collected donations to a total value of $1,533.
"I also received a large basket of Christmas goodies from Woolworths, a large box of fresh fruit from the St Marys Fresh Fruit Market, vouchers from Martin's Chemist and Joe's Meats… and a beautiful bunch of flowers from St Marys Florist on Queen Street," he said.
"This wasn't just about raising some money, it was about helping Mrs Pavey regain some faith in our community.
"Only the lowest of the low does something like this. This criminal didn't just steal money and her radio, he took away her feeling of safety and to an extent her freedom to feel safe enough to even make the short walk to her local shops."
Ms Pavey was brought to tears when Mr Donnelly and Ms Notley presented the gifts.
"I really don't know what to say except thank you, thank you, thank you to everybody. I never expected this at all," she said.