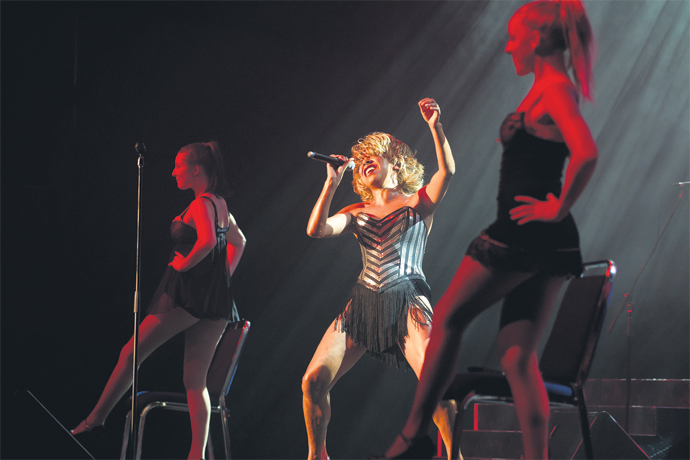 The reason Rebecca O'Connor sounds, looks and acts like Tina Turner so amazingly well is because she's been studying her every move for the past 30 years.

"I was obsessed with her from the age of seven, I just thought she was an amazing woman," Rebecca said.
"The hair, the legs, the lipstick, the wildness, she was just so powerful, her energy was amazing. I always thought while watching her videos – 'I want to be like that!'"
Tina Turner in her prime was one of the world's most popular entertainers. Her career has spanned more than 50 years and she was once billed by Rolling Stone magazine as the "Queen of Rock and Roll".
Rebecca's career took off playing the part of the 'Nutbush City Limits' singer after winning a European talent competition in front of 33 million viewers more than a decade ago.
"I was doing karaoke shows for years until one day I entered a competition called 'European Stars In Their Eyes', which was a show similar to 'X Factor', instead you would actually perform mimicking a famous artist," Rebecca said.
"I ended up winning that whole show, I won Europe, and that's when Tina Turner first saw me… she was amazed by that."
Rebecca's win was the start of the Irish-born performer's career and her performance on the show ended up catching the eye of one of music's most well-known managers.
"I went travelling around the world and ended up meeting Dennis Dunstan in Australia, he was the manager of Fleetwood Mac for 23 years," Rebecca said.
"He was like 'Oh my God, I would never take on a tribute act normally', but he just thought I was different."
One thing that's unique about Rebecca O'Connor's amazing live shows is that she is the only Tina Turner impersonator in the world that is fully-endorsed by the legendary singer herself. Turner once said: "Rebecca is so good, she's scary… if I had her energy, I would still be touring today".
Rebecca admits while it's a true blessing to have Turner's approval, it also gives her that added element of pressure of having to keep her standard as high as possible when she performs.
"I think just to keep up to her level, because she's endorsing every show that I do, is the tough part," she said.
"I have to do my best every time I'm out on stage because I'm portraying her as such."
The legendary Tina Turner was born in Nutbush, Tennessee almost 73 years ago in 1939. She started out her music career in the early 1960's with her then husband, Ike Turner.
Turner is responsible for some of the biggest rock classics of our time including 'Proud Mary', 'River Deep – Mountain High', 'Let's Stay Together', 'Private Dancer', 'What's Love Got To Do With It', 'We Don't Need Another Hero' and 'The Best'.
But one song most Australians can never get enough of is the ultimate party track 'Nutbush City Limits'. Whilst performing the song in Australia, Rebecca noticed something unusual that Australians do and the rest of the world does not.
"When I sing the 'Nutbush' the whole place just erupts and everyone does this 'dance'… but no one else in the world does it," she said.
"I got a fright the first time I saw an Australian audience doing it, I was like 'What the hell is happening?'"
Penrith will get the chance to do their own version of the 'Nutbush' when Rebecca O'Connor brings her spectacular live show to the EVAN Theatre, Penrith Panthers next Friday night.
"It's a full-on energetic show… I have dancers on stage with me, an amazing live band and we do all of Tina's hits live, so it's a real rock and roll show," Rebecca said.
Don't miss Rebecca O'Connor in her Tina Turner tribute show 'Simply The Best' when she performs live at Penrith Panthers next Friday, November 16 at 8pm. Tickets are $36.50. For more information call 1800 061 991 or visit www.penrith.panthers.com.au.
FYI has 15 double passes to see Rebecca O'Connor live at Panthers on November 16 to give away. For your chance to win one, email the code word 'TINA' to [email protected] and include your name and best contact telephone number. Entries close Wednesday, November 14. Authorised under NSW Permit Number LTP-APP-0000001330. Terms and conditions at www.westernweekender.com.au.