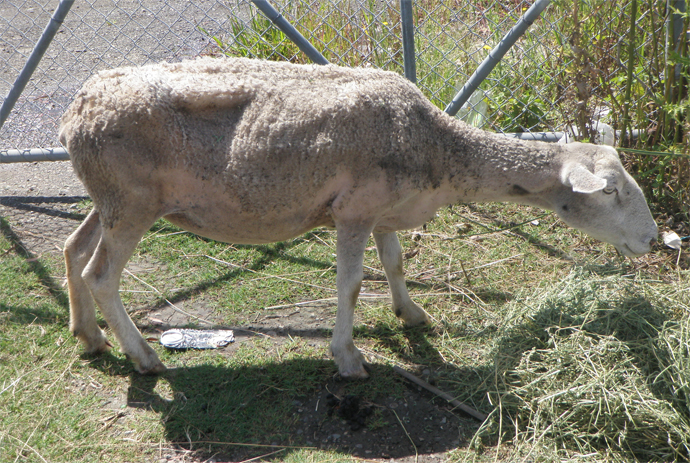 Yet another case of animal cruelty has been resolved in Penrith Local Court, which not only saw a win for the RSPCA, but a win for the mistreated ewe that was rescued.

In January this year, an RSPCA inspector responded to a report that two sheep, on a property in Londonderry, required urgent attention.
Both female sheep were discovered to be in very bad condition, one was emaciated and had collapsed and the inspector made the decision to seize the ewe for immediate veterinary attention.
"Upon examination, the ewe was scored as being in very poor body condition. Even with support, she was unable to stand. Despite repeated attempts at 'slinging' the ewe, she was unable to recover the ability to stand voluntarily," said RSPCA NSW Chief Inspector David OShannessy.
"She was humanely euthanised, as it was deemed cruel to keep her alive. It was estimated that the sheep had not received proper and sufficient food for a period of no less than two weeks, and was showing obvious effects of malnutrition."
The second ewe was underweight however appeared alert and responsive and therefore was left at the property however, was frequently visited by RSPCA inspectors over the following days to check her condition and provide her with food.
Six days after she was first visited, the second ewe was seized as no available food was sighted and the sheep was deteriorating in body condition.
"After three weeks in RSPCA's care, the sheep gained 8.7 kilograms – an 18.5% total body weight gain – and her body condition improved considerably," said Mr O'Shannessy.
On Tuesday, October 30, the owner of the sheep, Danny Hadchiti, pleaded guilty to two charges of animal cruelty, including aggravated cruelty and failure to provide proper and sufficient food to his two sheep.
He was convicted under the NSW Prevention of Cruelty to Animals Act and Regulations and fined $580.
He was also ordered to pay veterinary, professional and court costs, amounting to an overall total of $4464.36.