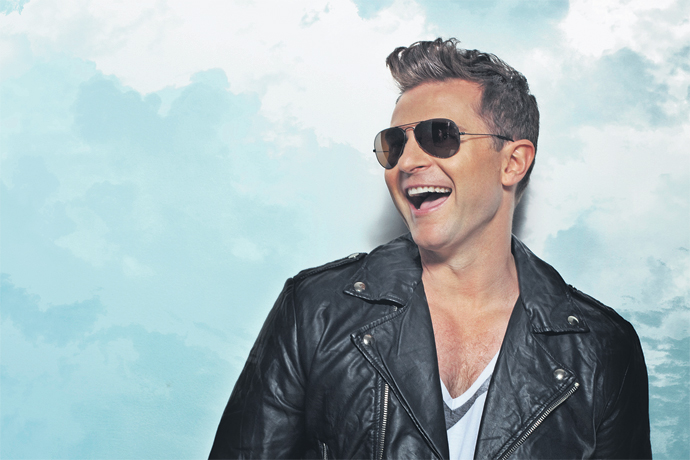 David Campbell is one of Australia's most-loved personalities.

He's the son of an Aussie music legend, he co-hosts a popular morning show on Channel Nine and he's released a countless number of hit albums.
Audiences will be able to see David Campbell doing what he does best when he performs the ultimate classics of years gone by during his 'Let's Go Saturday Night Live' tour at Blacktown Workers Club next Saturday, December 1.
David's likable persona makes him famous for his energetic live shows and he'll once again be bringing his fans some of his all-time favourite songs to the western Sydney stage. David will be performing tracks such as 'Tainted Love', 'I'm Your Man' and 'Shout To The Top' from his 80's inspired album 'Let's Go'.
In addition, he'll be keeping the party rocking with hits from his top 10 platinum selling albums 'The Swing Sessions', 'The Swing Sessions 2' and 60's tribute record 'Good Lovin''. "The shows I've already done so far on this tour have been really good fun, we even had a moshpit started by an 80-year-old at a recent show," David told FYI.
"The night will be filled with music from the 60's and 80's as well as the swing genre – it's just a big night out!" The 39-year-old got his start in the entertainment industry during the mid-90's as a theatre star both here in Australia and on Broadway.
During his time in New York David received glowing reviews from the local critics with Time Out New York claiming he was "creating the biggest buzz since Streisand". David's Broadway success led to more high profile roles in the US and Australia, starring in such musicals as 'Les Miserables', 'South Pacific', 'Guys and Dolls' and popular Aussie production 'Shout! The Legend of the Wild One'.
After many years away from the theatre stage to concentrate on his music and television work, David said he misses plenty of things from his former life.
"I absolutely miss it, there's something about the rehearsal process and sharing the stage," he said.
"It's a lot of fun having that collaborative effort and being directed and told what to do. When you're touring, like I am now, the onus is really on you. You're it and there's a lot of pressure."
Don't miss the hugely talented David Campbell when he performs some of music's most famous songs live at Blacktown Workers Club next Saturday, December 1 at 8pm. Tickets are $55. To book or for more information call 9830 0600 or visit www.workersclub.com.au.