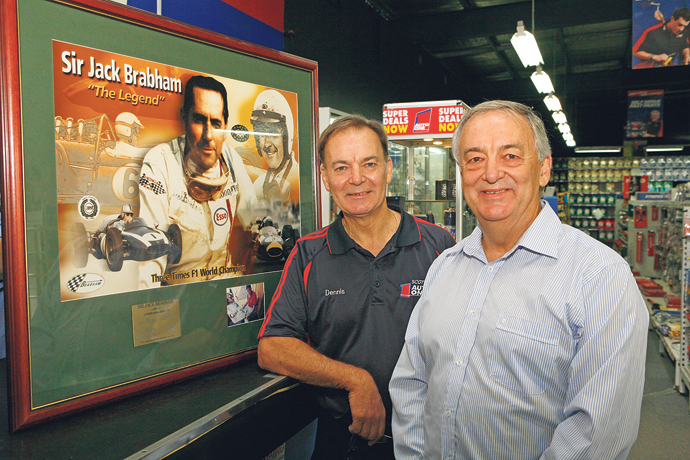 For brothers Dennis and John Scott, the sale of their famous business in Penrith is not about their remarkable history in the region, but more about the future of the organisation under new ownership.

Staff were informed last week that Scott's Auto One would fall into the ownership of Repco from next month, ending a famous era in Penrith but confirming a bright future for the company's staff.
"Repco's origins go back 90 years – we can only boast 76," John Scott told the Weekender.
"This is a fantastic outcome because our staff have retained their jobs. Our business is going to grow and develop with what Repco is going to bring."
The Scott name is synonymous in Penrith, with the family's history in the area dating back more than 150 years.
The business was started in 1936 by Jim Scott, John and Dennis' father, on the corner of High and Worth Streets in Penrith, and now sits in its iconic location on York Road in Jamisontown.
"Dennis and I are both passionate about our business, this is our first job and we have only ever worked for one boss, our father," John said.
"He started it in 1936, there is a lot of heritage, it's now the oldest business in Penrith still run by the founding family.
"But Dennis and I are both over 60 and do not have time on our side to re-invent the business and meet the challenges that lie ahead in today's world."
John said the sale of the business was in the best interests of the company itself as well as staff, customers and he and his brother.
"We considered a number of options concerning the future of our business, and the very best option was to offer the business to the Repco group," he said.
"They are a strong company… selling to Repco will only strengthen their presence and make the jobs of our staff more secure."
The Auto One name really took off in the late 1980's when John contacted nine spare parts businesses in Sydney with a view to establishing a buying group. Auto One grew to become one of the largest co-operative franchises with over 100 stores in Australia and New Zealand.
"We could have probably hung in there for another three or four years but we would have run the risk of becoming a Darrell Lea or a Borders," John said.
"The time is right and with technology changing, Repco will bring much more to the business' future than Dennis or I could."
The store in Penrith will eventually be re-badged with Repco branding, with the aim of ensuring a smooth transition.
John and Dennis Scott's last official day in charge will be November 30.