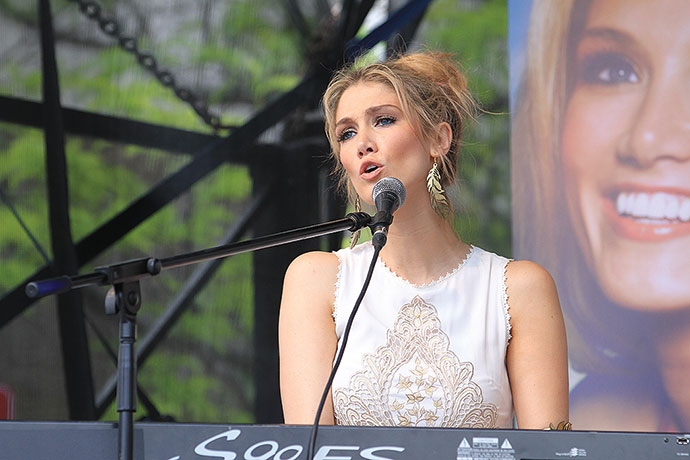 Australian chart-topping sensation, Delta Goodrem, said she can't wait to return to her role as mentor on 'The Voice', when production begins for the second season in February.

Speaking with FYI, Delta revealed she's heard whispers as to who might replace former mentor Keith Urban on the show, after he recently signed on to judge 'American Idol', but held back in giving any of the details away.
"We've heard a thing or two but I think if I even breathe people will start to chain me up, it's best I don't know anything," Delta said.
Last Sunday in front of a bumper crowd outside Westfield Penrith, the 28-year-old signed autographs and performed tracks from her new album 'Child of the Universe'.
'Child of the Universe' is Delta's fourth album release, which is quite surprising considering she's been on the music scene for more than 10 years.
Delta said she was very pleased with the early response her latest record has gained and didn't mind sharing the top of the charts with American powerhouse, Taylor Swift.
"The fans have been incredible… they have said it was worth the wait and are feeling this album is the best we've made," she said.
"I think people's reaction to the album has been everything and more I could've asked for. It was hard this week because Taylor Swift released her new record.
"I'm such a big fan of her, so to be sitting next to her on the charts makes me a completely happy girl."
Delta admitted it was almost a near impossible task to follow up her 2003 debut record 'Innocent Eyes', which gave her five number one singles and sold 4.5 million copies worldwide.
"I can never repeat 'Innocent Eyes', it was a moment in time that was phenomenal… the whole country took it in and one in every four homes has it," she said.
"There's so much as to why an album catches on fire… that album was truly a special moment in time and one that I hold really dear to my heart. I look at it and I appreciate it and understand that there are new moments to be had and I don't stay in my last moments.
"But that takes time to learn, it's not something you learn straight away. After 'Mistaken Identity', even I had to realise 'Innocent Eyes' wasn't the album any more. Sometimes I have to wait for fans to get over that album too."
Her performance in Penrith last Sunday (pictured) attracted thousands of fans to Westfield Penrith, many getting the opportunity to meet the singing superstar.