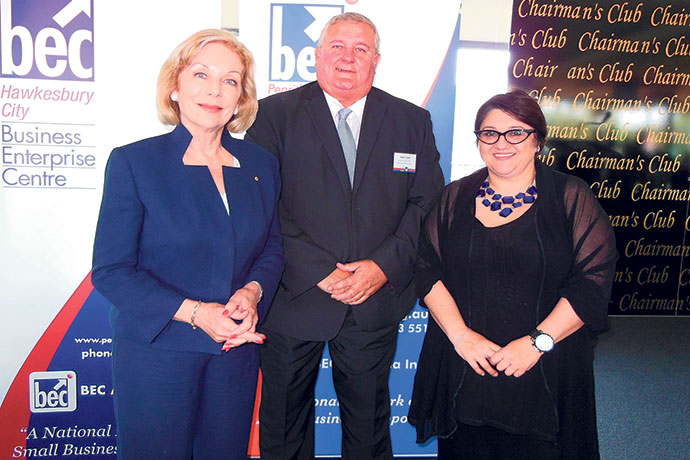 The Penrith Business Advisory Centre has been a key part of the Penrith corporate landscape for many years, and one of its annual highlights is its Sponsor's Luncheon.

This year's Luncheon was held last Friday, moving to the Chairman's Lounge at Centrebet Stadium for the first time.
The special guest speaker this year was media darling Ita Buttrose, who spoke about her remarkable career in newspapers, magazines and on television.
She spoke of breaking into a male dominated industry and of achieving success in the media at a young age, as well as being present for the birth of the famous Cleo magazine, where she made her name.
She spoke of working with Sir Frank Packer and Kerry Packer, and of how she's handled being recognised every time she goes out in public.
Also attending the luncheon was NSW Small Business Commissioner, Yasmin King, who defied the usual political protocol by speaking without prepared notes, a welcome change for many in the room.
The Penrith Business Advisory Centre is steeped in history and tradition. In late 1987, representatives from the Penrith Rotary Club, businesses within the community, Penrith City Council and other local interested business people met to discuss the possibility of establishing a Small Business Advice Centre in Penrith.
In November 1988, the Penrith City & District Business Advisory Centre Limited was opened. The Small Business Help Centre models itself on a very successful project, with the same name, in the United Kingdom.
The motto "big business helps all business" was decided upon as the launching pad for the centre's establishment. The annual Sponsor's Luncheon aims to thank those who support the Penrith Business Advisory Centre throughout the year. In recent times, the Centre has expanded even further, supporting the next generation of business leaders through GenYQ, a monthly networking project.