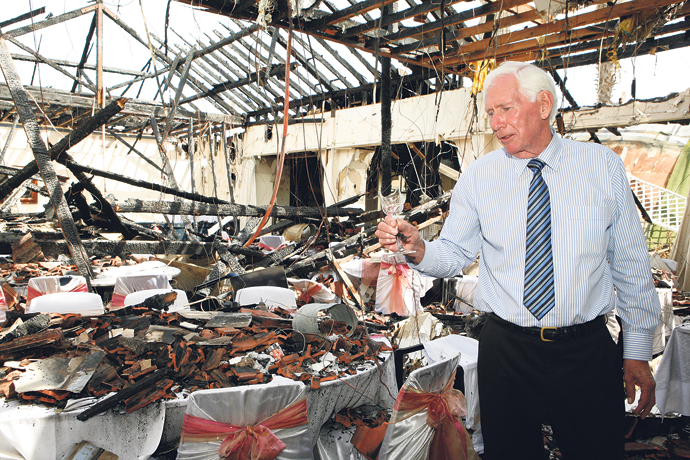 Ross Sinclair fought the fire himself for 30 minutes to try and save his beloved Log Cabin, but now the owner of Penrith's historic hotel is considering putting the site on the market.

On March 9 of this year, the entire Penrith community was dealt a terrible blow when an electrical fault in one of the downlights in the ballroom caused a fire in the Log Cabin, which was damaged beyond repair.
Back in March, Mr Sinclair foreshadowed the inevitable, telling the Weekender, "We might just have to build a Log Cabin number two".
Six months later, Mr Sinclair is now in meetings with architects to rebuild the Log Cabin from scratch.
"After six months the issues with the insurance companies are finally over," he said.
"It is too difficult to rebuild a hotel with five different buildings spanning 80 years of history so we have finally got permission to bulldoze what is left of the site and start again."
Mr Sinclair yesterday had a meeting with architects and though planning is still very much in the preliminary stages, he hopes to create something that will mark a new stage in Penrith's history.
"It is still all up in the air, we don't have any plans as yet, but there were plans made for a renovation before the fire so we certainly have some ideas," he said.
But, after working on the Nepean River for some 30 years, Mr Sinclair said it is possible that he might pass on the legacy of the Log Cabin to an interested buyer.
"I'm not getting any younger," he told the Weekender.
"If someone came along and said 'right, we have the money and time and incentive to do it' then it is possible.
"I'd be looking for someone who will do the right thing by Penrith."
The Weekender is aware of a potential buyer, but he could not be reached for comment.