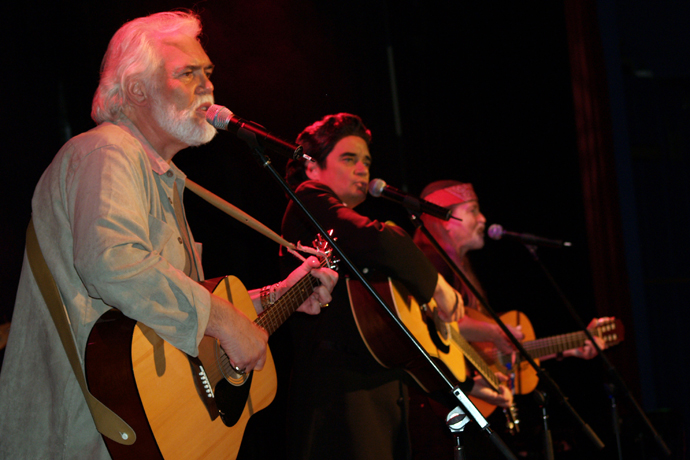 They toured here to great acclaim in 2011 and now the Kings of Country are back once again with a show that will delight audiences of all ages.

Direct from sell-out concerts in the USA and around the world, the Kings of Country will perform an unforgettable tribute to the biggest names in country music.
The concert stars three of the most incredible tribute performers going around – Marion Deaton as Willie Nelson, Marty Edwards as Kenny Rogers and Phillip Bauer as Johnny Cash. Johnny Cash impersonator, Phillip Bauer, has been performing as the late great 'Man in Black' since 1985.
His uncanny natural resemblance and stage presence leaves his audiences spellbound as he recreates the music that made Cash a living legend.
"I've been playing the role of Cash for 27 years but it's been in the last five years that I've done it full-time and it's really taken off," Phillip said.
The Oklahoma City resident said he never would've expected he would be performing as Cash for nearly three decades. "I did it originally as a small part in a show," he said.
"I always loved Johnny Cash but I never thought it would be still going on. I think the movie 'Walk The Line' really helped bring the music of Johnny Cash back to life, which in turn helped by career in a big way."
Johnny Cash was boring in 1932 and throughout his 71 years of life became one of the most influential musicians of the 20th century.
Although he's most loved and remembered for his work on the country music scene, Cash's songs crossed other genres including rockabilly, rock and roll, blues, folk and gospel.
This crossover appeal led to Cash being inducted into the country, rock and roll and gospel music halls of fame.
Cash's most famous songs, many which are still performed by modern day artists today, include 'I Walk The Line', 'Folsom Prison Blues', 'Ring Of Fire', 'Get Rhythm' and 'Man In Black'. When Cash died in 2003 from complications from his diabetes it shook the music world.
"When Cash died it was a very sad occasion, it was a great loss for America and the world," Phillip said.
Until this day Phillip hasn't stopped keeping the memory of Cash alive.
He revealed he got noticed for his amazing work as Cash after a fan posted a video of him performing the role on YouTube. Phillip said it was that video that really got the ball rolling.
"When I was a kid I used to watch Cash's TV show and I loved it," he said.
"I had a band that I used to play with and as part of the show I impersonated various voices. I did Neil Diamond and a few others but Johnny Cash was always a favourite.
"One day somebody said 'why don't you pick one, it might take off? I said 'nah that won't work!'
So I was doing a show in my hometown of Oklahoma City and someone filmed it and put it up on YouTube. Not long after people started calling the venue where I played saying 'who is this guy?' So I then started sending out an email with the video to producers and boom!"
When the Kings of Country bring there show to Rooty Hill next week they'll be performing all the hits that made their artist music icons.
"We each do our individual sets on the night before we get together for a big finale at the end," Phillip said.
"The crowd just loves hearing 'Ring Of Fire', 'Folsom Prison Blues' and 'A Boy Named Sue'.
And what about the on-stage rivalry between the three Kings, who gets the most cheers?
"Oh we debate it but we like to keep that between us," Phillip laughs.
The incomparable Kings of Country play live at the Rooty Hill RSL on Saturday, November 3 at 8pm. Tickets are $30. To book or for more information call 9625 5500 or visit www.rootyhillrsl.com.au.