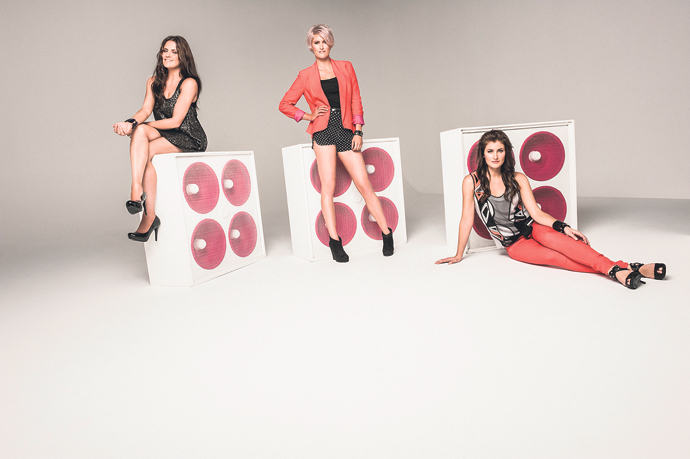 It's a well-known fact that if you put family members into a room or even onto a tour bus together, you're always going to have issues.

Australian country sister act, The McClymonts, are no different. Despite all the successes – the number one hits, the sell-out shows and countless awards – sisters Brooke, Sam and Mollie still have their fair share of problems.
But that's just family according to Brooke and that may be the reason they are so successful.
"We definitely have our moments but there's more good than bad," Brooke said.
"We definitely have our moments of not liking each other but we've got to get past it because we've got to work with each other and we're family. We've got to sit across the dinner table from each other, we've got to stand on stage beside each other, so you can't be cranky at one another for long."
Since their debut onto the music scene in 2006, The McClymonts have forged an incredible career both in Australia and overseas – they have truly become one of Australia's biggest success stories of the past decade.
Their third album 'Two Worlds Collide', released in May of this year, landed at number two on the ARIA country charts, just behind international Australian country legend Keith Urban.
Brooke said she wasn't entirely sure why people have such a love affair with her and her sisters but she's mighty proud that they do.
"I don't know what it is to be honest," she said.
"It could be that we are three girls who sing beautiful harmonies or it could be to do with our personalities. It's a combination of everything I think. People probably call it the 'x factor' but I really don't know what it is.
"With us three girls it just seems to work. We work really well together as sisters as well as working in the business together. We're stoked at the response because we love doing what we are doing and we love making music together. It's nice that people love what we do because at the end of the day not a lot people get to do that in their job, make people smile, so we're very fortunate to be in the position we're in."
And the girls hope to make their Penrith fans smile when they hit the EVAN Theatre stage later this month.
Brooke said her and sisters, Sam and Mollie, are excited to be headed Penrith's way and revealed it might be one of their last shows in the area for some time.
"It will be a completely new show to anything we've done before," she said.
"We'll be performing songs from the new album, we've got Wes Carr supporting us this time and it's just going to be a more vibrant show. As the years go on obviously we've matured, we're getting older and we've got more stories tell… sounds like a line from 'Play School'!
"But in all seriousness it's going to be great and it's going to be the last time people will see us for a while because we're not sure what our schedule is like for next year."
Brooke admitted the addition of former 'Australian Idol' winner, Wes Carr, to the bill will be a great opportunity for them to open up to a whole new audience of fans.
"We've been keeping up with Wes' career for quite some time and it will just be really fitting," she said.
"We wanted to reach a new audience with his fans as well. We really respect who he is as an artist and we really like him as a person. He's very talented and we thought let's give it a go. Hopefully he too will gain some new fans through us as well – it's going to be fun!"
The McClymonts, featuring Wes Carr, perform live at the EVAN Theatre, Penrith Panthers on Saturday, September 29 at 7.30pm. Tickets are $39.50. To book or for more information call 1800 061 991 or visit www.penrith.panthers.com.au.