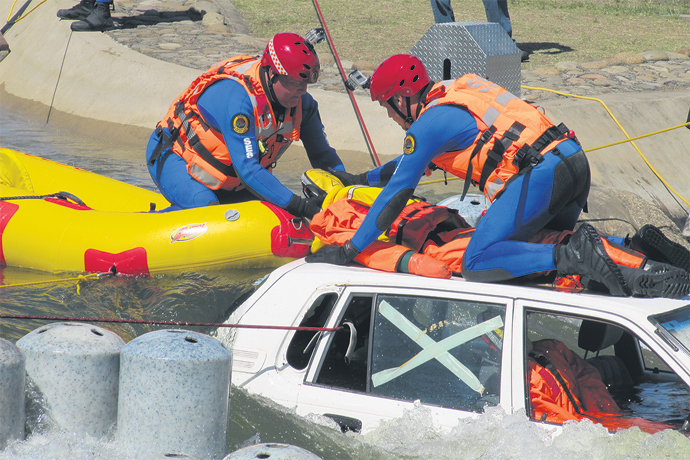 Here in Penrith, we know exactly how extreme the summer weather can be and this does not just include the heat; we have also seen the raging winds, high flood waters, hail and rain that comes with summer weather, which makes keeping 'StormSafe' this season all the more important.

The storm season officially starts on Sunday, October 1 and StormSafe Week, which takes place in the week prior, urges locals to prepare themselves for severe storms over the coming season.
Minister for Police and Emergency Services, Michael Gallacher, NSW State Emergency Services (SES) Commissioner, Murray Kear, Senior NSW SES Representatives and volunteers and NRMA Insurance Chief Executive Officer, Andy Cornish, launched StormSafe Week at Penrith Whitewater Stadium on Monday.
"[StormSafe Week] is about sharing information, it is about ensuring that communities are made aware of the risks that are ahead as we head into the storm season," Mr Gallacher said.
"This week is an opportunity for the entire public of this state to again, refresh themselves on what they have learnt from [their experiences] last year, to be ready for the unexpected, to prepare for it and most certainly heed the warnings and heed the expertise of [the emergency services]."
The SES also conducted a demonstration of the dangers of flash flooding, as a result of severe storms, in the waters at the Whitewater Stadium on Monday, where they simulated a rescue of two passengers in a car stuck in a flooded river.
"Storms can happen quickly and can be extremely dangerous bringing damaging winds, hail and even flash flooding. In the past 12 months the NSW SES has carried out 400 flood rescues, many of which involved people trapped in their cars by flash floods," Mr Kear said.
Member for Penrith, Stuart Ayres, believes that it is important that the people in Penrith begin to prepare for the weather conditions ahead over the warmer and unpredictable months.
"It is critically important that local residents start to prepare themselves for another storm season," he said.