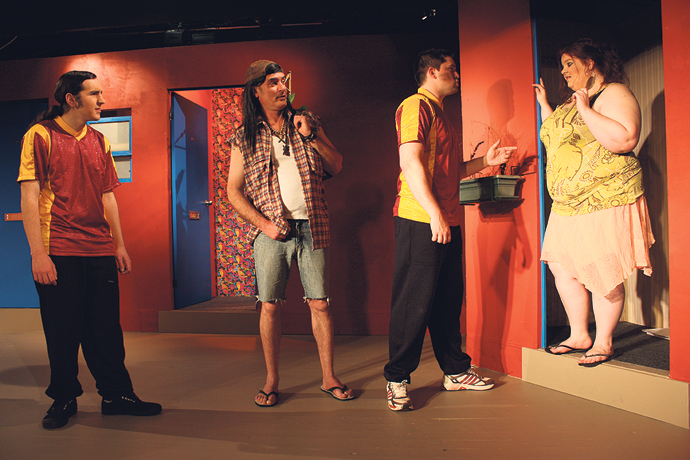 Jonathan Harvey's delightful comedy about youth, first love, self-discovery and three young people on the threshold of adulthood is currently playing at the Henry Lawson Theatre for a limited season.

'Beautiful Thing' is set against the drab backdrop of Thamesmead Council Estate, on the Thames River, East London, where three friends – Jamie, Ste and Leah – embark on a summer they won't soon forget.
Jamie is different: picked on at school, he is protected by and finds comfort in his friendship with Ste. Jamie's mum Sandra, a barmaid, only wants to earn enough money so she can buy a decent pair of shoes that won't let the rain in. With an endless string of boyfriends, her latest, Tony, is a hippie artist who is not as spaced out as he first appears.
Society has turned its back on Leah. Kicked out of every school in London, Leah seeks refuge in her music idol, Mama Cass. Life is no bowl of cherries in the end flat either, Ste's father is an alcoholic and his brother, is the resident dealer on the estate, who sees Ste as weak and harshly tries to toughen him up.
Yet through the doom and gloom, a mother and son's relationship will be healed, one will find hope for the future, a heart will be broken, two friends will find first love, and everyone will learn that life can indeed be a 'beautiful thing' as this play moves to its stunningly beautiful conclusion.
Filled with witty one-liners and a great soundtrack by the Mamas and the Papas, this play will melt the hardest of hearts and have you leaving the theatre with a smile.
The Henry Lawson Theatre advises that this play contains some coarse language and adult themes. It is not recommend for audiences under 15. 'Beautiful Thing' is showing at the Henry Lawson Theatre on September 7, 8, 14, 15 and 21 at 8pm.
Tickets are $21 for adults and $15 for concessions. To book call 4729 1555 or visit www.hltheatre.com.au.