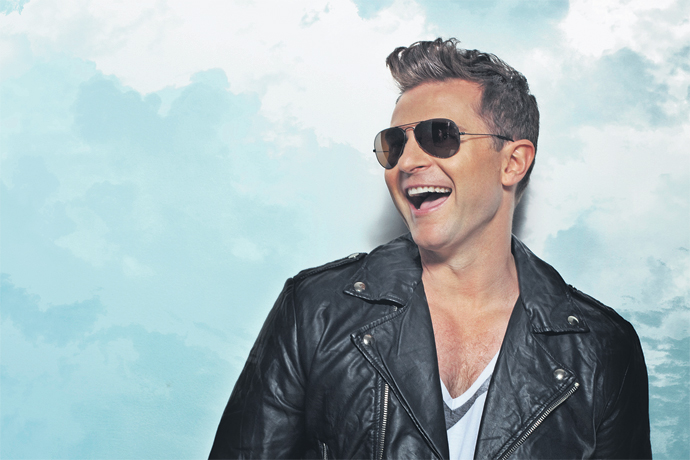 David Campbell is one of Australia's most-loved personalities. He's the son of an Aussie music legend, he co-hosts a popular morning show on Channel Nine and he's released a countless number of hit albums.

But one thing the all-rounder admits he's not so great at is songwriting. Yes it's hard to believe the son of Cold Chisel frontman Jimmy Barnes, who too wasn't known for his songwriting abilities, much prefers to belt out the classics of crooners like Frank Sinatra than write his own lyrics.
"There are some great classic songs out there and I'm not a songwriter, I'm just not," David said.
"For years I've been singing stuff like the Gershwins and the Porters, so it's really hard to sit down with three chords and your own story and go 'this is just not good enough, why would I put people through that?'."
Fortunately audiences will be able to see David Campbell doing what he does best when he performs the ultimate classics of years gone by during his 'Saturday Night Live' tour at Rooty Hill RSL next Saturday, September 22.
David's likable persona makes him famous for his energetic live shows and he'll once again be bringing his fans some of his all-time favourite songs to the western Sydney stage.
David will be performing tracks such as 'Tainted Love', 'I'm Your Man' and 'Shout To The Top' from his 80's inspired album 'Let's Go'.
In addition, he'll be keeping the party rocking with hits from his top 10 platinum selling albums 'The Swing Sessions', 'The Swing Sessions 2' and 60's tribute record 'Good Lovin''.
"The shows I've already done so far on this tour have been really good fun, we even had a moshpit started by an 80-year-old at my last show," David said.
"The night will be filled with music from the 60's and 80's as well as the swing genre – it's just a big night out!"
The 39-year-old got his start in the entertainment industry during the mid-90's as a theatre star both here in Australia and on Broadway.
During his time in New York David received glowing reviews from the local critics with Time Out New York claiming he was "creating the biggest buzz since Streisand".
David's Broadway success led to more high profile roles in the US and Australia, starring in such musicals as 'Les Miserables', 'South Pacific', 'Guys and Dolls' and popular Aussie production 'Shout! The Legend of the Wild One'.
After many years away from the theatre stage concentrating on his music and television work, David said he misses plenty of things from his former life. "I absolutely miss it, there's something about the rehearsal process and sharing the stage," he said.
"It's a lot of fun having that collaborative effort and being directed and told what to do. When you're touring, like I am now, the onus is really on you. You're it and there's a lot of pressure."
These days, away from the mic, David is feeling the pressure of another kind – live morning television. Earlier this year, David and co-host Sonia Kruger became the faces of Nine's new weekday morning talk show aptly titled 'Mornings'.
David said his close friendship with his co-host has made his experience on the show much more comfortable.
"Sonia's been a friend of mine for years and I think this has made us much closer," he said.
"We have the same sort of sensibility when it comes to entertaining. It's really easy with Sonia, it's one of the best collaborations I've ever had.
"When you do live TV that's five days a week you get comfortable really quickly. The first month I was a bit sweaty and unsure but I'm working with a master of live TV in Sonia, who has really helped me a lot."
Don't miss the hugely talented David Campbell when he performs some of the most famous songs live at Rooty Hill RSL next Saturday, September 22 at 8pm. Tickets are $56.
To book or for more information call 9625 5500 or visit www.rootyhillrsl.com.au.