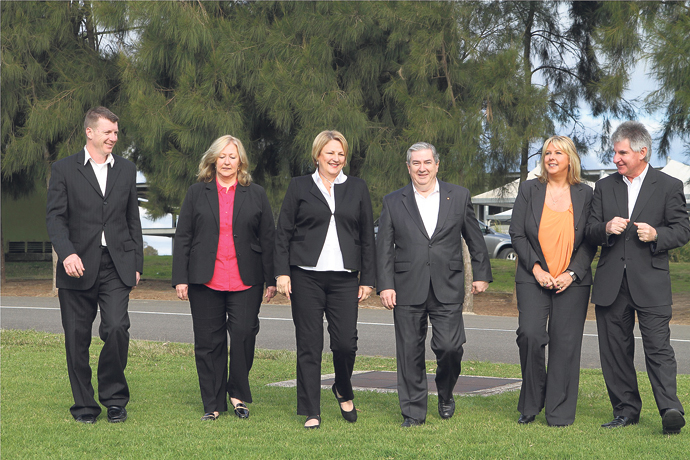 Roads, rates, rubbish… and carbon tax.
A spiteful war of words has erupted a week out from the Local Government elections, with candidates trading blows via press releases as the battle for success at next Saturday's poll turns ugly.
The feud escalated last week when independent candidates Ross Fowler, Bernard Bratusa and Tricia Hitchen issued a carbon tax-themed press release, saying that locals should "brace themselves for a savage increase as power bills are delivered to letterboxes in coming weeks".
"I'd love one Labor councillor to look me straight in the eye and say the Prime Minister and the Treasurer did not mislead every person in the country," Mr Fowler said in the release.
"The carbon tax will see the rate payers of Penrith and St Marys forced to pay in excess of $1 million and that is on top of the additional cost for goods and services that will flow from additional energy charges."
The release also said: "On September 8 the residents of Penrith's local government area will have their chance to end Labor's love affair with the Gillard Government by electing a team of liberal thinking independents who will put the Penrith community first."
The release raised the ire of Labor councillor Karen McKeown, who in a retaliation press release said the independents were not focusing on local issues.
"This attack shows that they are bereft of ideas for the city [and] that they lack any commitments or plans," Cr McKeown said.
"They intend to cruise through the election by distracting the electorate with spin and Federal issues."
Refusing to back down from bringing Labor's federal issues into the local arena, Cr Fowler along with Ms Hitchen and Mr Bratusa issued another press release on Monday, with the headline "Gillard would be proud".
The release accused Labor of "adopting Julia Gillard's campaign style of say anything to get elected".
Download the original release from the Independents
Download Labor's press release
Download the latest release from the Independents