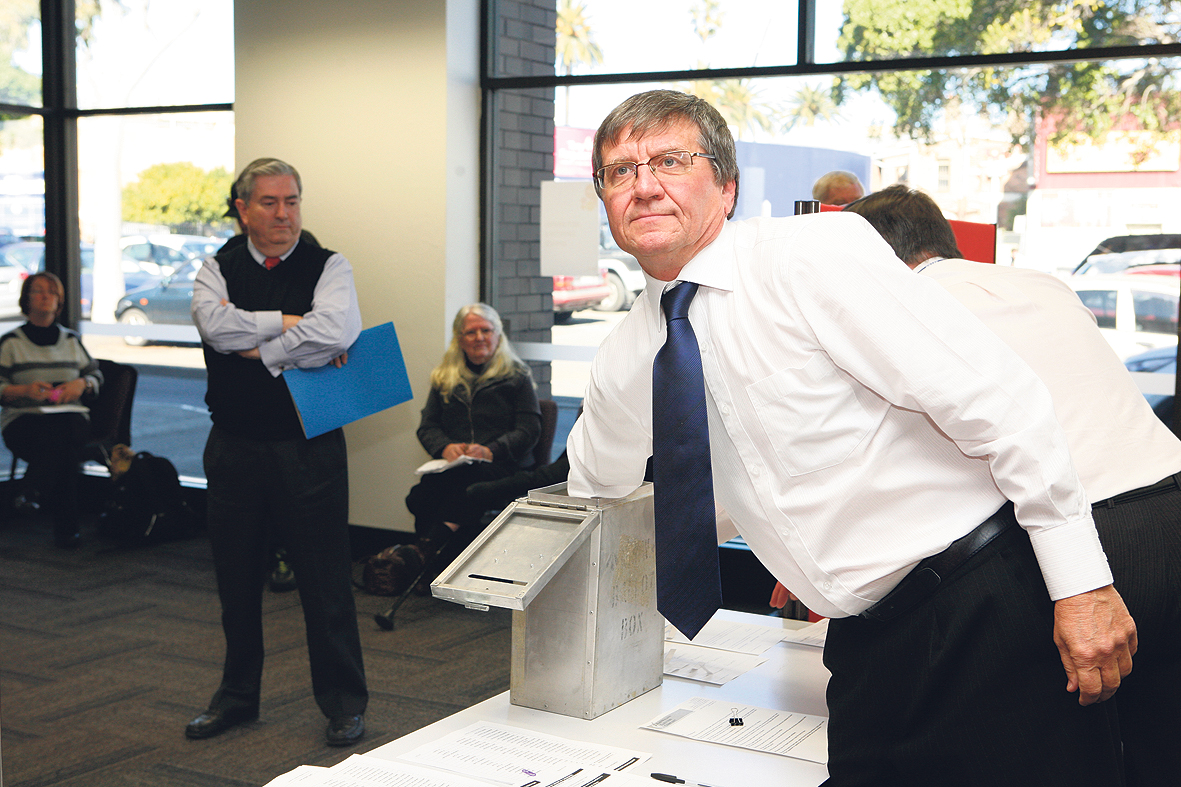 It was all down to luck for Penrith's election candidates on Wednesday as Returning Officer, Peter Hermann, conducted the draw for crucial ballot paper positions.

Nominations for candidacy at the upcoming Local Government Elections closed at 12pm on Wednesday and by 12.30pm a crowd of sitting and aspiring councillors gathered at the local electoral office to watch the draw take place.
"I have received 132 nominations for the election comprising 25 groups and two ungrouped candidates. I hereby nominate all of the candidates," declared Mr Hermann.
The Labor Party team, headed by Mayor, Greg Davies, did not have the luck they were hoping for, with Cr Davies' group named last on the ballot paper for East Ward out of seven groups.
Sitting Councillor, John Thain, experienced the same fate, being named the last of 10 groups on the North Ward ballot paper.
In South Ward the Labor Party fared better with Karen McKeown's group well positioned in third.
"It is the luck of the draw," she laughed.
"The position on the ballot paper is not of any great significance, and I'd just like to make note of the large number of people seeking election – it is fantastic for democracy in our community."
Cr McKeown said that though the nominations have only just closed, campaigning is already well underway.
"For the past three or four weeks now we have been door-knocking, but what is most surprising is that many residents do not even realise the elections are happening," she said.
Ross Fowler's Independent Liberal team had quite the opposite luck in the ballot position draw, scoring second position in North Ward with Cr Fowler at the lead, first position in East Ward led by Tricia Hitchen and second in South Ward led by Bernard Bratusa.
"The Independent Liberal team was very fortunate with the ballot draw and will be hoping that luck continues through into the election results, though I am very confident that our lead candidates will be elected and represent the people of Penrith well, and take those responsibilities very seriously," Cr Fowler said.
And there were candidates with beginner's luck too – Michelle Tormey of the Greens is contesting her first election and was drawn first on the highly contended North Ward ballot.
"It is a great chance for me to get elected and a great opportunity for people to elect a young woman with a young family like myself, and show that we can stand up and fight for our beliefs," she said.
But showing that position is not everything, Mark Davies was last on the South Ward ballot paper in 2008 and last again in 2012.
But in 2008, he blitzed the competition, coming away with the largest portion of votes, 7,511.
"I think voters are smart and those wanting to vote for a Liberal Party member will recognise that I am a member of the Liberal Party," he said.
The Liberal Party itself is not endorsing any candidates, with Party members forced to run as independents.