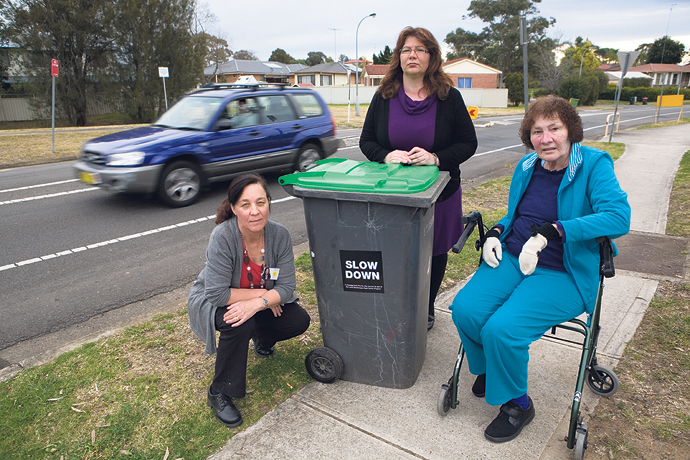 South Penrith residents of Tukara Road want the road's entrance closed off at the Northern Road after countless accidents and close calls caused by speeding drivers.

Local resident, Robin, said that from 3pm onwards each afternoon, countless cars exiting the Northern Road along Tukara Road fail to slow down and are a serious risk to pedestrians and other cars.
"The first concern is that when cars come off the Northern Road into Tukara – and it is not a very wide street – drivers are not expecting other cars to be turning. But there are two turns, Bickley Road on the left and Kinmont on the right, that are very dangerous as drivers cannot slow down in time," she said.
"Also, depending on what season it is, Tukara Road is on a slight incline and the sun is blinding in peak hour. It is a very dangerous combination when people are already driving fast.
"The best solution would be to close off access to cars turning from the Northern Road but it is highly unlikely as the street is an alternative for traffic heading down Maxwell Street."
Independent election candidate, Sue Day, has encouraged local residents to band together and address the issue – the first step being a series of 'Slow Down' stickers on bins to warn drivers.
"There is no greater issue of concern than safe streets for drivers and pedestrians," she said.
Ms Day said she would like to see a three-phase campaign implemented to make local streets safer with minimal cost to ratepayers.
The campaign, "fine tunes using real action" uses an existing community service initiative that she says was left idle by sitting Penrith City Councillors.
"Drive Slow" action will involve residents in targeted areas being consulted and issued with a "Drive Slow" bin sticker to flag the issue to pedestrians and car users.
"After a three month period, residents will be consulted again to see if they have noticed a decrease of incidences of speed abuse in their local streets," she said.
The third phase of the campaign would involve a community forum where residents, Penrith City Council and the Police would meet to plan a strategy together for South Ward if there was no improvement.
"My plan is cost effective and improves an existing program that has been forgotten by sitting Councillors. It also uses resources that already exist, the bin stickers are already printed and there to be used, so there is no added expense to Council," she said.