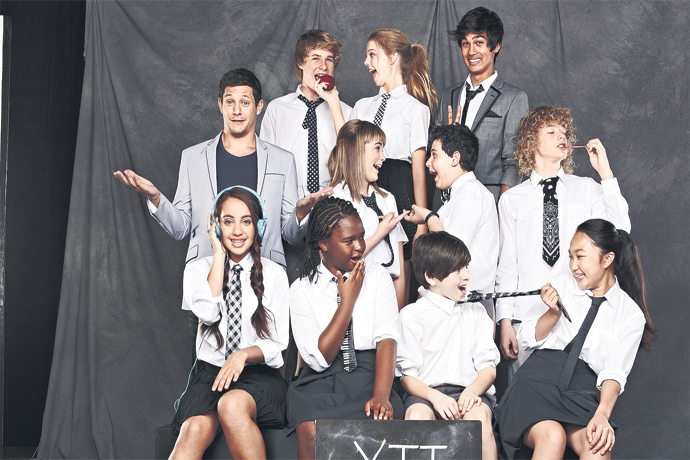 He may only be 13-years-old but 'Young Talent Time' (YTT) singer, Nicolas di Cecco, is having the time of his life. The talented teenager is a member of Channel 10's revived variety show, which re-launched at the start of the 2012 TV season.

'YTT' is a talent show aimed at encouraging young performers to give it their best in weekly competitions throughout the season.
Each week contestants would perform their talent and be judged by two mentors/judges, which included original and longest serving 'YTT' member Tina Arena and Emmy Award-winning choreographer Charles Klapow.
The winners of the 2012 version of 'YTT' were an all boys hip-hop troupe called Lil' Banditz Krew, who took home $100,000 in prize money.
During the July school holidays, the entire Young Talent Team, including host Rob Mills, will come together on stage to perform a variety of group numbers and solo performances.
Nicolas said he can't wait to travel around the country as part of the upcoming 'Young Talent Time' live entertainment extravaganza.
"It's going to be so cool to see some parts of Australia, which I haven't seen before. It will be so much fun," he said.
"The show at Penrith will be so much fun and we can't wait to get the crowd involved.
"We'll be cheering the audience on and telling them to sing and clap along with us. We will also be doing 'YTT' one-on-one interviews with kids after the show."
Nicolas admits audience participation is the most important thing when it comes to live performing. "It's so much fun to see how the audience interacts and seeing that they are having a good time at the concert," he said.
During the afternoon concert, the 'YTT' team will perform a huge variety of songs we all know and love and will be joined on stage by hip-hop dance group and winners of the 2012 series – Lil' Banditz Krew.
"I myself will be featured in performances of 'Man in the Mirror' by Michael Jackson, 'Don't Worry Be Happy' by Guy Sebastian, 'Price Tag' by Jesse J and 'Jump Start' by These Kids Wear Crowns'," Nicolas said.
The original 'Young Talent Time' show began in 1971 and ran until 1988.
It was produced and hosted by musician Johnny Young. During its 17-year reign on network television, the show featured a core group of young performers singing popular classics, as well as the big hits of that time. The original series launched the career of superstars Dannii Minogue and Tina Arena and spawned numerous hit singles, 15 'YTT' albums, a film, trading cards, board games, toys and numerous Logie Awards.
Nicolas said he was told all about the show's famous history by his parents and was encouraged by them to go along and audition.
"My dad came home one day, after reading the newspaper and he read that 'YTT' was coming back," he said.
"My parents would always tell me about 'YTT' and how they used to watch when they were kids, that was their entertainment basically. My parents thought it would be a great show for me to go on and I thought why not give it a shot?
"When my parents first saw me on the show they were so excited that they were both crying. They were really happy for me."
The confident and polite Year 7 student said being part of the 'YTT' family is one of the best things to ever happen to him.
"It's an amazing and unbelievable experience being part of the 'YTT' team," Nicolas said.
"We are all like one big family, I feel like they are my brothers and sisters… we are all very close.
"Another awesome thing about being involved in 'YTT' is getting to meet all these cool celebrities along the way. We've met Vanessa Hudgens from 'High School Musical', Josh Hutcherson from 'Bridge to Terabithia' and singers Taio Cruz and Stan Walker."
Nicolas believes more kids should try out for 'YTT' in the future because it really does make dreams come true for so many youngsters.
"When you're on 'YTT' you get to do what you love and meet and work with great people," he said.
"You also make some really good friends and it's really just a big foot in the door to be honest… and what kid wouldn't love to be on TV?"
Nicolas was born a performer and wanted to be a star for as long as he could remember. "I've wanted to be a performer ever since I could talk," he said.
"I used to always watch TV when I was younger and I would always sing along. That's pretty much what made me want to become a singer. It's really cool that all my dreams are finally coming true!" Nicolas hopes after he's finished with his 'YTT' commitments he can carve out his own successful career in the entertainment industry. "I hope to become a singer and an actor," he said.
"I'd love to do my own show. I'd love to be based in the United States because that's a great place for singing and dancing. I would actually really love to have my own show in America or be on Broadway, that would be so cool!"
The 'Young Talent Time' live tour is headed to the EVAN Theatre, Penrith Panthers on Wednesday, July 4 at 2pm. Tickets are $46.50. To book or for more information call 1800 061 991 or visit www.penrith.panthers.com.au.