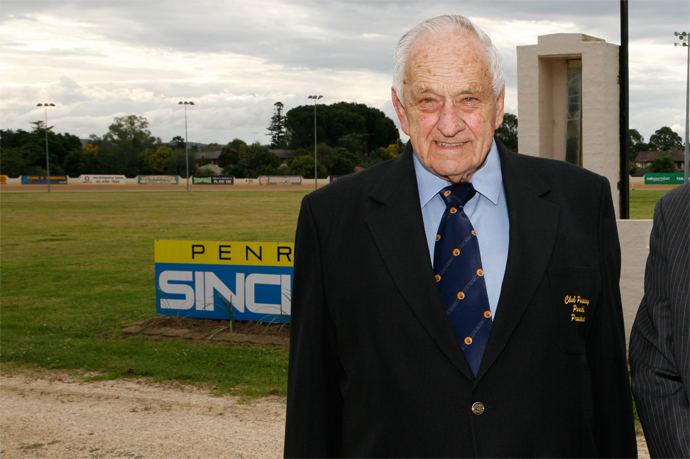 A number of locals have been celebrated today as part of Queen's Birthday honours…
Max Laughton
Max Laughton is a living documentary of the sport of harness racing and has been recognised for his dedication to the sport in the Queen's Birthday Honours List.
Mr Laughton said that he became involved in the sport when he was just 24-years-old and has never left the track since.
"I was around 24 when I started training with Alf Phillis and we would go out to Penrith on my days off," he recalled.
Max moved to Penrith in 1948 when he entered the Police Force and attended the Penrith Police Training College in High Street, Penrith.
"I was a police officer for 40 years and I really loved the job. I was even awarded the Police Medal for exemplary service," he said.
In 1964, Mr Laughton founded the Penrith Harness Racing Club and became a foundation executive member.
Since the early days of harness racing, Mr Laughton said that he is very proud of how the sport has grown, especially in recent years.
"I guess one of the biggest factors has been the establishment of the function centre and the reconstruction of the track," he said.
He is also a board member for Harness Racing NSW. But not only has Mr Laughton given generously to the sport, he has also maintained community involvment with the Penrith Agricultural, Horticultural and Industrial Society and the Penrith Show Society.
"I got involved because it was a great community and many of the same people were involved in multiple committees in those days so I got involved too," he said.
Mr Laughton was awarded the Centenary Medal in 2001 and the Wall of Achievement Award, for services to Penrith and its communities also in 2001.
Dr James Broadbent
Dr James Broadbent of Mulgoa has been recognised in this year's Queens Birthday Honours List for his efforts to preserve Australia's built heritage and as an academic and researcher.
Throughout his lifetime, Dr Broadbent has served as a consultant historian and architect.
A member of the National Trust of Australia since 1975, Dr Broadbent was instrumental in the protection of several historical homes in western Sydney including Rouse Hill House, Elizabeth House and Elizabeth Bay House.
He was involved in advising the State Government on the establishment of the Historic Houses Trust of NSW and the NSW Heritage Council in the 1970s.
The Mulgoa resident was also the founding curator of the Lyndhurst Conservation Resource Centre in 1989 and served as the senior curatorial advisor for the Historic Houses Trust of NSW for 13 years.
Other roles Dr Broadbent applied himself to include membership of the Collections Committee since 1979, membership of the Curatorial Committee since 1990, the Cemeteries Committee from 1979 to 2002 and the Architectural Advisory Panel between 1980 and 1993.
Aside from his extensive endeavours to preserve Australia's architectural and built history, Dr Broadbent has authored seven books, 10 book chapters and published over 30 papers and journal articles.
He is also a public ecturer on Australian architectural and social history, and the preservation and restoration of Australian colonial houses and gardens.
Dulcie & Max Harrison
The founders of the Kingswood Neighbourhood Centre, Dulcie and Max Harrison, have been recognised for their efforts in the local community on the Queen's Birthday Honours List.
The humble couple have been instrumental in a number of community campaigns including the delivery of the Mount Druitt Hospital and Kingswood Neighbourhood Centre.
Mr Harrison has also volunteered on the St Marys Community Safety Precinct Committee with the St Marys Local Area Command and was president of the Liberal party for Chifley for many years.
"I am very proud of Max, he has always been very supportive and vocal in the community," Mrs Harrison said.
When the couple moved to Kingswood they noticed there was no real place for the young families and children to play so decided they should campaign for a community centre.
"My husband worked very hard for the centre, and I was involved because I just supported him. We needed something, a centre where all the kids could play and there was a big paddock with nothing built on it, so we approached Karyn Paluzzano and eventually it was built," Mrs Harrison said.
Though Mrs Harrison is full of praise for her husband, she to has achieved a lot fo rthe community.
As part of the original lobby group to have Mount Druitt Hospital built in the 1970's, Mrs Harrison was delighted that the community's needs were met by the government of that time.
"It was a hugh achievement for the ladies who were involved and it was wonderful that the Queen herself came out and opened the hospital in 1982," she said.
"I have been the treasurer for the Mount Druitt Hospital Auxilary since 1973 and for the gift store in 1982, but I am so embarrassed because there are so man volunteers who were so important too.
"It's been a terrifc ride but you need support and there are such wonderful people in the area who did just as much as Max and I did."

Dianne Giblin
Improving public education has been Dianne Giblin's life long passion but the Werrington Downs resident was very surprised to discover she was included on the Queen's Birthday 2012 Honours list.
Amongst a long list of achievements, Mrs Giblin was president of the Federation of Parents' and Citizens' Association of New South Wales for five years, ambassador for the '1 million women' campaign and advisor to the NSW Department of Education.
"I was surprised, there are so many people who do so much for public education and I want to congratulate them all on their wonderful efforts," she said.
Mrs Giblin first took an interest in public education when her children began attending school.
"We were living in western Sydney and saw the need to ensure our kids received a good education and were provided for in the public education system," she said.
Mrs Giblin joined the Parents' and Citizens' Association of NSW in 1988 and is now recognised as a life member.
"Once I became involved in my own children's education, you cannot help but see how many kids benefit from it," she said.
One of Mrs Giblin's big contributions to education in western Sydney was advocating for a local university to be constructed.
"I was part of the action group lobbying for a university to be built here in western Sydney at the time when the University of Sydney was considering building a branch here and was very happy to see the University of Western Sydney established."
Mrs Giblin also served as the Community Development Officer for the priority schools program at Kingswood Park Public School between 1993 and 2001 and took on many responsibilities including advisory positions to various organisations.
Just last week, Mrs Giblin was in Canberra advising on the schools funding review and currently holds the position of CEO of the Australian Council of State School Organisations.
But now as a grandmother, Mrs Giblin is just happy that her legcacy will benefit her family and other western Sydney families. Her two grandchildren are being schooled in Werrington and Claremont Meadows.