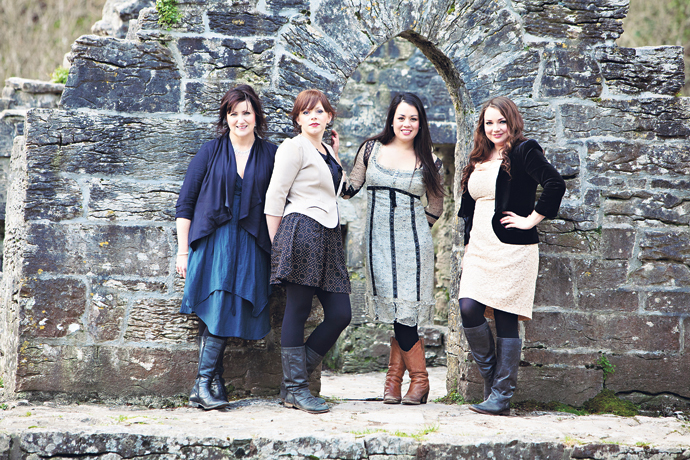 The small yet utterly beautiful country of Ireland has produced some of the world's biggest and most influential music acts like U2, Westlife, The Corrs and Ronan Keating.

But there's no act that sums up Ireland's culture and rich history more than the divine ladies of Celtic Divas.
The Celtic Divas are a glittering array of artists who perform a beautiful set of songs that have emerged from the timeless and windswept landscapes of an ancient world that still lives on in the modern imagination.
With elegant accompaniment from some of Ireland and Australia's top musicians, the Celtic Divas bring us on a journey of movement and migration, through leaving and homecoming, sharing with us the beauty and poignancy of nations steeped in love, loss and joy.
When the Celtic Divas grace the Joan Sutherland Performing Arts Centre stage next week they'll be presenting to audiences the beautiful Irish duo Lumiere, featuring Éilis Kennedy and Pauline Scanlon, as well as the sublime vocals of Noriana Kennedy and Nicola Joyce.
Together the Divas plan to weave an evocative and haunting showcase of some of the Celtic world's most well-known songs.
One half of Lumiere, Éilis Kennedy, said audiences can expect an unbelievable concert experience unlike anything else that's ever come to town before.
"The show will comprise of us four singers plus four band members as well," she said.
"What we like to do is sing songs from the Gaelic and Scottish tradition. Before each song we like to chat and interact with the audience telling them what the songs mean to us, the history behind the song and where we found them.
"We perform some songs with two people singing, then there's a couple we perform solo, followed by a few more lively tracks where we get the whole band involved."
Before they arrived in Australia the four members of the Celtic Divas recently wrapped up a successful tour of New Zealand, which saw them perform to standing ovations and sell-out crowds.
"The reception in New Zealand was great, we really had a blast with the audiences over there," Éilis said.
"A lot of the people in our audiences are of Irish decent, while others who attend our shows are interested in the music and like to come along to see and hear something different."
Celtic music in Australia has always been very popular, largely due to the fact that Australia's population comprises of more than 50,000 Irish-born immigrants. Éilis said the Divas were approached to tour Down Under to play to the demand of Celtic music lovers.
"There has definitely been a revival of Celtic music in Australia over the past few years and I think that's because there are so many Australians visiting, staying and living in Ireland these days," she said.
"That's why my duo, Lumiere, and the other girls Noriana and Nicola were approached to do this tour of Australia and New Zealand because there is such a big demand for our songs here.
"The one thing that's different about a Celtic Divas show is that it's not just a night of singing, it's a night of storytelling as well. It is very entertaining and there are plenty of giggles to be had because everyone knows how we Irish people like to yarn."
Celtic music has been around for many centuries and a lot of the themes featured in Celtic folk songs talk about various events that have occurred in their historic and mythical past.
"You have to remember that most of these songs in the folk tradition are songs that tell stories of events that have happened, so in that sense they go back a couple of hundred years," Éilis said.
"For example, we sing songs about immigration but we also perform songs about stories that have carried from many generations ago.
"All of us (Celtic Divas) have come from families where singing has been very highly regarded and from towns where singing is highly regarded, that's why I believe all those elements make our show very authentic."
Éilis' duo, Lumiere, is one of the most talked about vocal acts to emerge from Ireland in recent times. Éilis and her partner Pauline have been a partnership for more than five years and are on the cusp of recording their second album, which will be highly anticipated.
Lumiere is just one of Ireland's many successful acts and music fans seem to love and adore almost anything that's released by Irish artists. From big rock bands like U2 and The Script to groups like Boyzone and The Corrs to classical acts like Celtic Women and Celtic Thunder, the musicians of Ireland sure have the music world eating out of their hands.
"There's a very artistic side to people in Ireland and a lot of it's due to the aura and tradition of storytelling," Éilis said.
"Music was encouraged in the Irish education system for generations too but perhaps the most important thing of all is that the Irish people have a really great respect for nurture and tradition and that's evident throughout their music."
The show in Penrith is expected to be a sell-out.
The Celtic Divas perform live at the Joan Sutherland Performing Arts Centre on Sunday, June 17 at 5pm. Tickets are $67 for adults and $59 for concessions. To book or for more information call 4723 7600 or visit www.jspac.com.au.