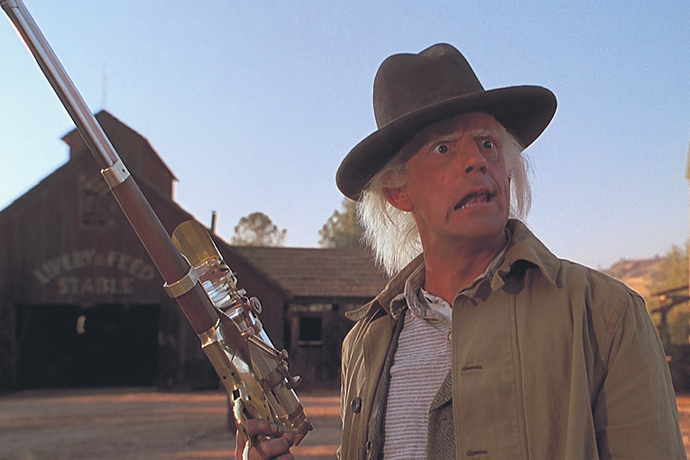 We all love the 'Back to the Future' movies. Last week, we caught up with Christopher Lloyd, aka Doc, for a chat about the films and his visit to Sydney…

You're headed out to Sydney for Supanova this weekend, what's the one thing fans always ask you about?
Fans always ask me about my time on 'Back to the Future' (BTTF) and which movie out of the trilogy I liked the most, number three has always been my favourite I guess. Fans also ask about my time as Reverend Jim in the series 'Taxi'.
Do you often get people asking you to quote famous lines from your TV and movie roles?
That happens fairly often, people love to hear me say "Great Scott!" (laughs), as well as a couple of other lines.
Back in 2010 you did a few 'BTTF' cast reunions to celebrate the movie's 25th anniversary, do you get the chance to catch up with co-star Michael J. Fox often?
Michael lives on the East coast and I live on the West coast, so our paths don't cross too often but there are occasions that come up where the cast of 'BTTF' come together. When I do see Michael it's always a joy, he's such a wonderful person and does so well trying to raise funds and awareness to find a cure for Parkinson's disease. Michael's a swell guy and the way he's coped and accepted (having Parkinson's) hasn't really diminished his courage or positive outlook on life.
What is it about 'BTTF' that makes it one of the classic all-time movie franchises?
I think the movie has a real attraction for young kids Marty's (character played Michael J. Fox) age. For Marty to meet somebody who's older like Doc (Lloyd), who as far as he's concerned anything is possible, opens a child's eyes to all kinds of discovery and possibilities. The movie also represents a typical family environment, there's also romance for Marty and the whole mystic of travel back or forward in time is a universal fantasy for everyone. Beyond that the film was so well-written, directed and cast, it's just kind of a knockout.
When filming 'BTTF', did you ever think by 2012 we would have some of those cool inventions that appeared in the film?
It's funny, I was at an event recently with one of producers of 'BTTF' and he kind of insinuated that people were working very hard on some sort of Hoverboard and said it could be a reality someday.
You said in an interview in 2010 that starring in 'BTTF' changed your life. What did you mean by that?
It suddenly boosted my career in terms of being asked to do more films. Every time you do a film it's sort of a life-changer because you become so involved with a whole new group of people and with a script that sort of demands that you go somewhere psychologically that you perhaps wouldn't have gone to before. So every new job is sort of an event and 'BTTF' was so pervasive and so many people have seen it from two or three different generations and you're lucky if you get something that even gets produced and ends up in a theatre. To have a trilogy keep going and going and going and all the feedback that comes from it makes it a life-changer.
What's the likelihood there will be a fourth 'BTTF' or a reboot of the series?
I don't think there would be another 'BTTF' movie and I don't think any of us would be happy doing another film without Michael J. Fox. I also think everyone felt after 'BTTF Part Three' that would be it. We did three great films and where do you go from there? It might be milking it a little bit too much.
Finally, when you're not making movies or travelling the world meeting fans, what do you get up to in your spare time?
I don't get up to much these days, I'm kind of a hermit in some ways. I'm not crazy social or go out all the time. I like to read a lot, go to the movies. I go to the gym every day and work-out, that feels good. I have friends and a terrific godson and his mum that I spend a lot of time with. And I hope every Monday that by the end of the week I'll have another script sent to me (laughs), that's my biggest thrill.
Christopher Lloyd will be appearing live at Supanova, Sydney this weekend.