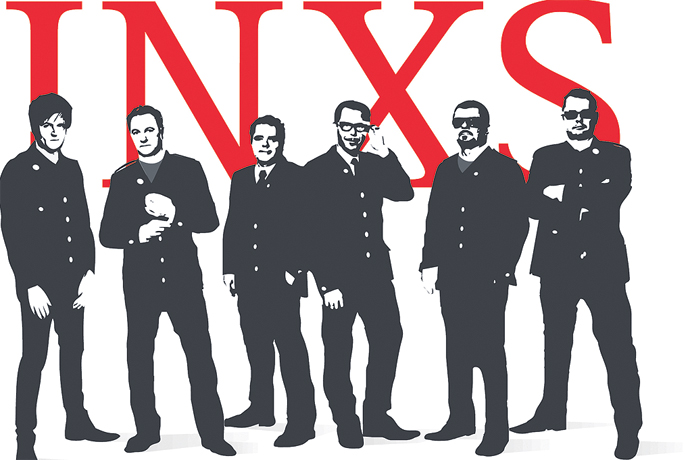 How do you introduce a band that's racked up over 30 amazing years in the industry, performed more than 5,000 live shows, played to 25 million people across 50 countries and sold more than 35 million albums worldwide? Wait, I think I just did!

Legendary Australian rock band INXS are back and are set to relive the 'good old days' when they head out on the road to experience where it all began. And us locals are in for a real treat when the boys cap off their 'Coast To Coast' tour right here in Penrith.
The band's tour across Australia will coincide with the unveiling of the super-group's latest frontman, Irishman Ciaran Gribbin, to INXS's most passionate fans here in Oz.
Guitarist and founding member Tim Farriss said the current tour will be an amazing experience for new singer Ciaran because he'll get the chance to rock out in some of the more intimate venues around the country, just like the band did back in the '80s.
"We've been on the road overseas since Ciaran joined us in September last year, his first show with us was in front of 15,000 people in Peru," he said.
"All the shows we've performed with him have been big massive shows and we really wanted to show him the Aussie heartland and where we are from.
"We've just recently taken over this downstairs area of a nightclub in Manly to rehearse for the tour. This whole downstairs area is set up like a gig, we've taken our combo amps, effects and instruments down there and set it up like a 'band room' – we haven't done anything like that since we were The Farriss Brothers.
"Down in the band room we've been hanging out, being a band, playing music, jamming and just doing stuff we haven't done in years."
Ever since the shock death of popular frontman and founding member Michael Hutchence in 1997, INXS has been through their fair share of replacements over the years.
Since the late '90s the band has welcomed accomplished singers like Jimmy Barnes, Jon Stevens and Terance Trent D'Arby into the mix, as well as a man by the name of J.D. Fortune, who won a worldwide reality television show contest called 'Rock Star' to find the new lead singer of INXS.
Tim said whilst he's enjoyed what each and every frontman has brought to the band over the years, their new lead Ciaran, who's also an accomplished songwriter, brings to the table something very special.
"The great thing about it all is Ciaran is fitting in as a band member, not like a 'hired gun' like all the other singers, except Michael (Hutchence)," he said.
"Ciaran actually wants to be in the band as a band mate and it's feeling really, really good. He and my brother Andrew (Farriss) get together almost everyday to write, I mean we haven't done that since we had Michael and it's really exciting."
Ciaran became involved with INXS after meeting band member Andrew Farriss at a BBQ.
Both men met over some snags and a few drinks after someone at the party, who knew Ciaran was a performer, asked him to get up and entertain the partygoers with a few songs. Ciaran opened with INXS' huge hit 'Mystify' and the rest, as they say, is history.
"My brother went up to Ciaran afterwards and said 'You know I'm Andrew Farriss, I wrote that song ('Mystify') with Michael Hutchence' and Ciaran was like 'No way I grew up with you guys'", Tim recalled.
"So Andrew and Ciaran got to talking about Ciaran's incredible songwriting history with the likes of Madonna and Paul McCartney before Andrew asked him if he'd like to do a songwriting session together.
"A few months after that initial meeting Andrew brought Ciaran along to one of our recording sessions we were doing at the time. Whilst there, Ciaran started singing a couple of our songs with us, we loved it and it sort of went from there."
Fans across the world who have already seen the new INXS line-up have also started to catch on to Ciaran's natural talent and professionalism calling him "The best singer to lead INXS since Michael Hutchence". Tim said in terms of Ciaran's singing ability and vocal range, he would have to agree.
"In some ways I agree with that comment but in saying that we've had some fantastic singers work with us," he said.
"Technically as a singer I'd have to say I'd agree… although Jon Stevens (with the band from 2002-03) is technically a brilliant singer too, there's no doubt about it. J.D Fortune (with the band from 2005-11) from a musical point-of-view was a very good singer, I wouldn't call him a great singer, but I would call him a great entertainer.
"Ciaran's got a really great voice and has different timbres in his vocal qualities that allows him to sound different from song to song – he can rip out a hot tune or sing a really beautiful ballad."
Don't miss the incomparable INXS, featuring new frontman Ciaran Gribbin, as they play all their hits including 'Original Sin', 'Beautiful Girl', 'Don't Change', 'Mystify', 'Need You Tonight', 'Never Tear Us Apart' and more this July at Penrith Panthers. Tickets are selling fast!
INXS rock the intimate EVAN Theatre, Penrith Panthers live on Sunday, July 15 at 8pm.